Analysis and Recommendations:
The USD/CAD gained some strength today on positive sentiment towards the USD. Investors in Canada are looking forward to Tuesday's policy statement from the Bank of Canada and the release of its quarterly assessment of the economy, due Wednesday.
Investors are increasingly anticipating that the central bank will alter its tone from slightly hawkish to solidly neutral, by omitting a reference that "some modest withdrawal of the present considerable monetary policy stimulus may become appropriate. Friday's softer inflation data and Bank of Canada Governor Mark Carney's seemingly more-dovish speech in British Columbia last week continue to weigh on the Loonie.
FxEmpire provides in-depth analysis for each currency and commodity we review. Fundamental analysis is provided in three components. We provide a detailed monthly analysis and forecast at the beginning of each month. Then we provide more up to the data analysis and information in our weekly reports.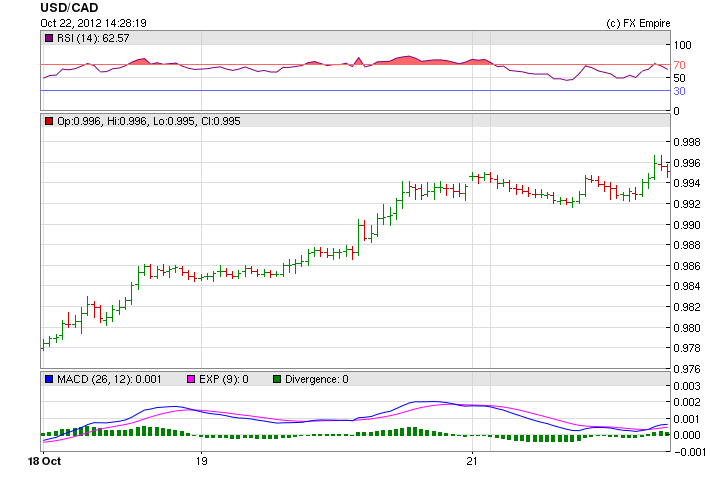 Upcoming Economic Events that affect the CAD and USD
| | | | | | |
| --- | --- | --- | --- | --- | --- |
| Date | Time | Currency | Event | Forecast | Previous |
|  Oct. 23 | 13:30 | CAD | |   | 0.4%  |
|   | 13:30 | CAD | |   | 0.7%  |
|   | 14:00 | CAD | | 1.00% | 1.00% |
| Oct. 24 | 15:00 | USD | | 385K | 373K |
Government Bond Auction
Date Time Country 
Oct 23 08:30 Spain 
Oct 23 14:30 UK 
Oct 23 17:00 US 
Oct 24 09:10 Sweden 
Oct 24 09:30 Germany 
Oct 24 14:30 Sweden 
Oct 24 15:30 Italy  
Oct 24 16:30 US 
Oct 25 00:30 Japan 
Oct 25 09:10 Sweden 
Oct 25 15:30 Italy  
Oct 25 17:00 US 
Oct 26 09:10 Italy