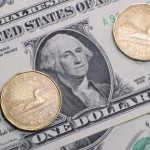 Analysis and Recommendations:
The USD/CAD is trading at 0.9943 adding a few pips. The CAD is strong, having gained 0.3% but trading within yesterday's range. A broadly weaker USD, partially on the back of a better risk environment after the UK released a strong GDP report and many are suggesting that the worst is behind us have helped support CAD. There are no Canadian releases expected today; Governor Carney will provide an introduction of the IMF's Lagarde, but there are no published remarks or press conference and accordingly there is likely to be no impact on CAD.
In the US today, unemployment numbers were mixed and US durable goods were way over forecast but a deep look into the numbers bothered trades. Pending home sales also dipped
FxEmpire provides in-depth analysis for each currency and commodity we review. Fundamental analysis is provided in three components. We provide a detailed monthly analysis and forecast at the beginning of each month. Then we provide more up to the data analysis and information in our weekly reports.
Economic Data October 25, 2012 actual v. forecast
| | | | | | | | | | | |
| --- | --- | --- | --- | --- | --- | --- | --- | --- | --- | --- |
| Date |   | Currency |   |   | Event | Actual |   | Forecast |   | Previous |
| Oct. 25 | | HUF | | | Hungarian Retail Sales (YoY)  | -2.40% |   | -2.20%  |   | -2.60%  |
|   | | SEK | | | Swedish Interest Rate Decision  | 1.25% |   | 1.25%  |   | 1.25%  |
|   | | GBP | | | GDP (QoQ)  | 1.0% |   | 0.6%  |   | -0.4%  |
|   | | GBP | | | GDP (YoY)  | 0.0% |   | -0.5%  |   | -0.5%  |
|   | | BRL | | | Brazilian Unemployment Rate  | 5.4% |   | 5.3%  |   | 5.3%  |
|   | | USD | | | Core Durable Goods Orders (MoM)  | 2.0% |   | 0.8%  |   | -2.1%  |
|   | | USD | | | Durable Goods Orders (MoM)  | 9.9% |   | 7.1%  |   | -13.1%  |
|   | | USD | | | Initial Jobless Claims  | 369K |   | 370K  |   | 392K  |
|   | | USD | | | Continuing Jobless Claims  | 3254K |   | 3255K  |   | 3256K  |
|   | | MXN | | | Mexican Trade Balance  | 0.234B |   | -1.318B  |   | -0.979B  |
|   | | USD | | | Pending Home Sales (MoM)  | 0.3% |   | 2.1%  |   | -2.6%  |
Upcoming Economic Events that affect the CHF, EUR, GBP and USD
| | | | | | |
| --- | --- | --- | --- | --- | --- |
| Date | Time | Currency | Event | Forecast | Previous |
| Oct. 26  | 07:00 | EUR | | 5.9  | 5.9  |
|   | 08:00 | CHF | | 1.63  | 1.67  |
|   | 13:30 | USD | | 1.9%  | 1.3%  |
|   | 14:55 | USD | | 83.0  | 83.1  |
Government Bond Auction
Date Time Country 
Oct 26 09:10 Italy