Analysis and Recommendations:
The USD/CAD is holding at 0.9782 with very little activity with both US and Canadian markets closed. The US is celebrating Columbus Day and Canada is enjoying Thanksgiving. There is no data, but the drop in oil prices continues to weigh heavily on the Looney.
FxEmpire provides in-depth analysis for each currency and commodity we review. Fundamental analysis is provided in three components. We provide a detailed monthly analysis and forecast at the beginning of each month. Then we provide more up to the data analysis and information in our weekly reports.
Economic Data October 8, 2012 actual v. forecast
| | | | | | | | | | | | | |
| --- | --- | --- | --- | --- | --- | --- | --- | --- | --- | --- | --- | --- |
| Date |   | Currency |   |   | Event | Actual |   | Forecast |   | Previous |   |   |
| Oct. 08 |   | AUD |   |   | RBA Governor Stevens Speaks  |   |   |   |   |   |   |   |
|   |   | CHF |   |   | Unemployment Rate  | 2.9% |   | 3.0%  |   | 2.9%  |   |   |
|   |   | CHF |   |   | CPI (MoM)  | 0.3% |   | 0.3%  |   | 0.0%  |   |   |
|   |   | EUR |   |   | German Industrial Production (MoM)  | -0.5% |   | -0.8%  |   | 1.2%  |   |   |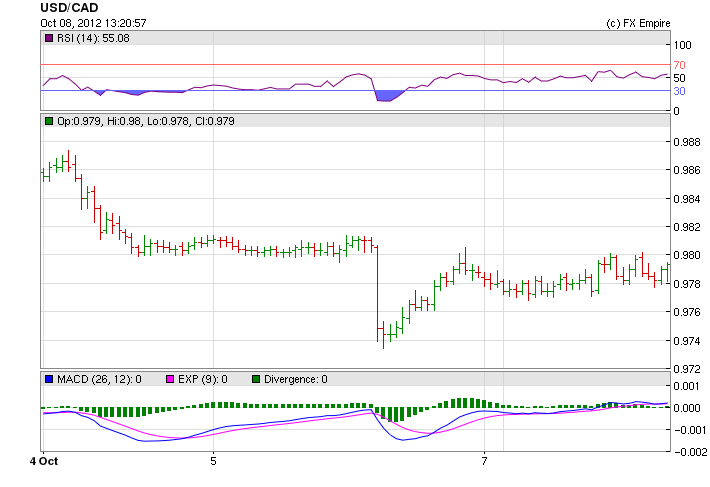 Upcoming Economic Events that affect the CAD and USD
| | | | | | |
| --- | --- | --- | --- | --- | --- |
| Date | Time | Currency | Event | Forecast | Previous |
| Oct. 09 | 13:15 | CAD | | 208.0K | 224.9K |
|  Oct. 11 | 13:30 | CAD | | -2.0B | -2.3B |
Government Bond Auction
Date Time Country 
Oct 09 08:30 Holland 
Oct 09 09:30 UK 
Oct 09 14:30 UK 
Oct 09 17:00 US 
Oct 10 09:10 Italy  
Oct 10 09:10 Sweden 
Oct 10 09:30 Germany 
Oct 10 09:30 Swiss 
Oct 10 14:30 Sweden 
Oct 10 17:00 US 
Oct 11 09:10 Italy  
Oct 11 09:10 Sweden 
Oct 11 09:30 UK 
Oct 11 15:00 US 
Oct 11 17:00 US 
Oct 12 09:30 Germany 
Oct 12 10:00 Belgium