Analysis and Recommendation:
The USD/JPY continues to fight a tough battle not giving any headway to the greenback. The pair are trading this morning at 78.37 adding a few pips after the Economy Watchers Index in Japan dipped below forecast and also below previous reports. Also the Adjusted current account widened unexpectedly to 0.72T. Japan's current account surplus unexpectedly rose 4.2 percent in August from a year earlier, Ministry of Finance data showed on Tuesday, although the outlook remains murky as a slowdown in the Chinese economy and Europe's debt crisis are hurting the nation's exports.  The surplus stood at 454.7 billion yen ($5.82 billion), against a median forecast for 425.5 billion yen. The current account has been in a surplus for seven straight months.
FxEmpire provides in-depth analysis for each currency and commodity we review. Fundamental analysis is provided in three components. We provide a detailed monthly analysis and forecast at the beginning of each month. Then we provide more up to the data analysis and information in our weekly reports.
Economic Data October 9, 2012 actual v. forecast
| | | | | | | | | | | |
| --- | --- | --- | --- | --- | --- | --- | --- | --- | --- | --- |
| Date |   | Currency |   |   | Event | Actual |   | Forecast |   | Previous |
| Oct. 09 |   | GBP |   |   | BRC Retail Sales Monitor (YoY)  | 1.5% |   | -0.3%  |   | -0.4%  |
|   |   | GBP |   |   | RICS House Price Balance  | -15% |   | -20%  |   | -18%  |
|   |   | JPY |   |   | Adjusted Current Account  | 0.72T |   | 0.52T  |   | 0.34T  |
|   |   | AUD |   |   | NAB Business Confidence  | 0 |   |   |   | -3  |
|   |   | JPY |   |   | Economy Watchers Current Index  | 41.2 |   | 44.2  |   | 43.6  |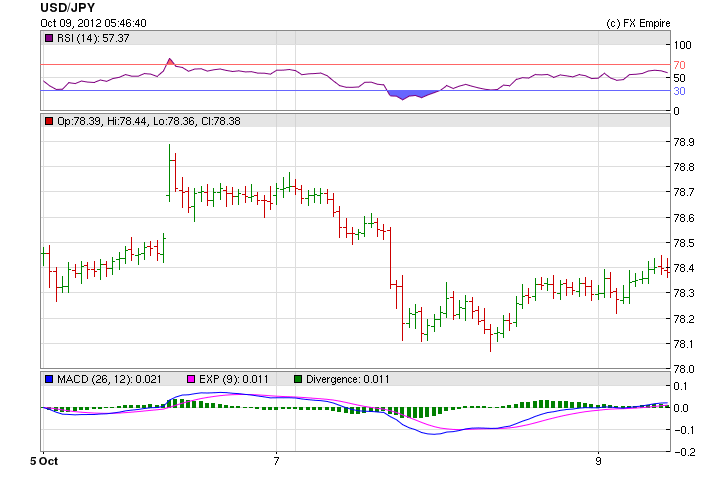 Upcoming Economic Events that affect the AUD, NZD, JPY and USD
| | | | | | |
| --- | --- | --- | --- | --- | --- |
| Date | Time | Currency | Event | Forecast | Previous |
| Oct. 11 | 01:30 | AUD | | 3.8K | -8.8K |
Government Bond Auction
Date Time Country 
Oct 10 09:10 Italy  
Oct 10 09:10 Sweden 
Oct 10 09:30 Germany 
Oct 10 09:30 Swiss 
Oct 10 14:30 Sweden 
Oct 10 17:00 US 
Oct 11 09:10 Italy  
Oct 11 09:10 Sweden 
Oct 11 09:30 UK 
Oct 11 15:00 US 
Oct 11 17:00 US 
Oct 12 09:30 Germany 
Oct 12 10:00 Belgium