Analysis and Recommendation:
The USD/JPY is trading at 78.57 breaking above the lower 78 range that the pair has been stuck in. The U.S. dollar held on to modest gains through the Asian morning Monday, supported by a hint of risk aversion, although trade activity was generally subdued.
Bank of Japan Deputy Governor Hirohide Yamaguchi said on Monday that economic growth in emerging economies is slower but their growth potential is still high.
"Amid the continued low economic growth, the environment surrounding securities markets has been severe and there has recently been concern over a decline in the competitiveness of Japanese securities markets compared with those overseas."
Yamaguchi didn't mention the outlook for the BOJ's monetary policy or Japan's economy.
FxEmpire provides in-depth analysis for each currency and commodity we review. Fundamental analysis is provided in three components. We provide a detailed monthly analysis and forecast at the beginning of each month. Then we provide more up to the data analysis and information in our weekly reports.
Economic Data October 15, 2012 actual v. forecast
Date

 

Currency

 

 

Event

Actual

Forecast

Previous

 

 

 

Oct. 13

 

CNY

 

 

Chinese Trade Balance 

27.70B

20.40B 

26.66B 

 

 

 

 

 

CNY

 

 

Chinese M2 Money Stock

14.8%

13.6% 

13.5% 

 

 

 

Date

 

Currency

 

 

Event

Actual

Forecast

Previous

 

 

Oct. 15

 

GBP

 

 

Rightmove House Price In

3.5%

 

-0.6% 

 

 

 

 

AUD

 

 

Home Loans (MoM) 

1.8%

1.4% 

-0.7% 

 
 

 

 

AUD

 

 

New Motor Vehicle Sales (M

4.7%

 

4.3% 

 
 

 

 

CNY

 

 

Chinese CPI (YoY) 

1.9%

1.9% 

2.0% 

 

 

 

 

CNY

 

 

Chinese PPI (YoY) 

-3.6%

-3.6% 

-3.5% 

 

 

 

 

CNY

 

 

Chinese CPI (MoM) 

0.3%

0.4% 

0.6% 

 

 

 

 

CNY

 

 

Chinese FDI 

 

 

-3.40% 

 

 

 

 

JPY

 

 

Industrial Production (MoM) 

-1.6%

-1.3% 

-1.3% 

 

 

 

 

SGD

 

 

Singaporean Retail Sales

3.2%

0.6% 

-2.9%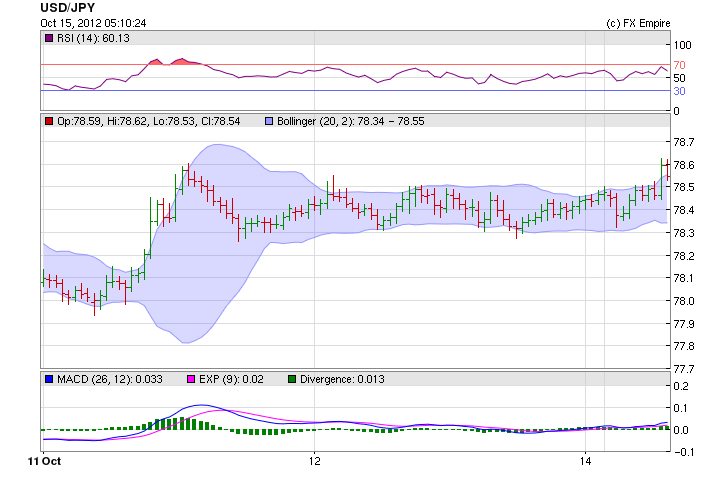 Upcoming Economic Events that affect the AUD, NZD, JPY and USD
| | | | | | |
| --- | --- | --- | --- | --- | --- |
| Date | Time | Currency | Event | Forecast | Previous |
|  Oct. 16 | 13:30 | USD | | 0.2%  | 0.1%  |
|   | 13:30 | USD | | 0.4%  | 0.6%  |
|   | 13:30 | USD | | 1.8%  | 1.7%  |
|   | 13:30 | USD | | 2.0%  | 1.9%  |
|   | 14:00 | USD | |   | 67.0B  |
|   | 14:15 | USD | | 0.2%  | -1.2%  |
Government Bond Auction
Date Time Country 
Oct 16 08:30 Spain 
Oct 16 09:10 Greece 
Oct 16 09:30 Belgium 
Oct 17 09:10 Sweden 
Oct 17 09:30 Germany 
Oct 17 09:30 Portugal 
Oct 17 10:00 Norway 
Oct 17 14:30 Sweden 
Oct 18 08:30 Spain 
Oct 18 08:50 France 
Oct 18 09:30 UK 
Oct 18 09:50 France 
Oct 18 14:30 Sweden 
Oct 18 15:00 US 
Oct 18 17:00 US