Analysis and Recommendation:
The USD/JPY climbed to its highest this month to trade at 79.35 on strength in the USD and expectations of monetary easing by the BoJ. The USD was strong yesterday but dipped after more positive data gave investors the desire for higher risk moving out to commodity currencies.
The yen plumbed five-month lows on the euro and a two-month trough on the dollar on Friday as investors grew confident the Bank of Japan would ease further next week, making the yen more attractive as a funding currency for carry trades. A slew of reports quoting sources saying the central bank would consider taking action at its October 30 policy meeting encouraged speculators to trim long yen positions.
Sentiment had been briefly shaken on Thursday after earnings from Google fell well short of expectations. Adding to the drama, the results were prematurely released during the trading session and caused Google stocks to plummet some 9 percent before a trading halt was triggered.
That gave the forex market an excuse to take profits in the euro and commodity currencies that have rallied this week on talk of a credit line for Spain and on Moody's decision to maintain the country's investment grade rating for now.
Thursday's batch of Chinese data, which offered hopes the slowdown in the world's second biggest economy was stabilizing, and a successful bond sale in Spain had little lasting impact on markets.
FxEmpire provides in-depth analysis for each currency and commodity we review. Fundamental analysis is provided in three components. We provide a detailed monthly analysis and forecast at the beginning of each month. Then we provide more up to the data analysis and information in our weekly reports.
Economic Data October 19, 2012 actual v. forecast
| | | | | | | | | | | | | |
| --- | --- | --- | --- | --- | --- | --- | --- | --- | --- | --- | --- | --- |
| Date |   | Currency |   |   | Event | Actual |   | Forecast |   | Previous |   |   |
| Oct. 19 |   | NZD |   |   | Credit Card Spending (YoY)  | 1.5% |   |   |   | 1.9%  |   |   |
|   |   | CNY |   |   | Chinese FDI  | -3.80% |   |   |   | -3.40%  |   |   |
|   |   | JPY |   |   | All Industries Activity Index (MoM)  | 0.1% |   | 0.2%  |   | -0.6%  |   |   |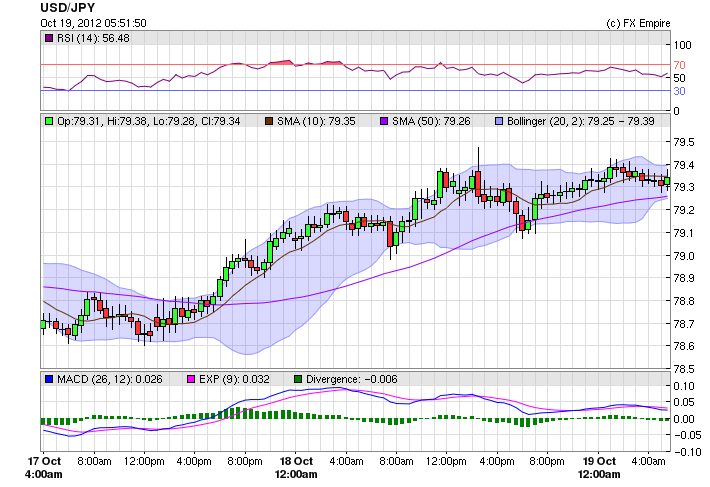 Upcoming Economic Events that affect the AUD, NZD, JPY and USD
| | | | | | |
| --- | --- | --- | --- | --- | --- |
| Date | Time | Currency | Event | Forecast | Previous |
| Oct. 24 | 01:30 | AUD | |   | 0.5%  |
|   | 01:30 | AUD | |   | 0.5%  |
|   | 21:00 | NZD | |   | 2.50% |
Government Bond Auction
Date Time Country 
Oct 22 09:10 Norway 
Oct 23 08:30 Spain 
Oct 23 14:30 UK 
Oct 23 17:00 US 
Oct 24 09:10 Sweden 
Oct 24 09:30 Germany 
Oct 24 14:30 Sweden 
Oct 24 15:30 Italy  
Oct 24 16:30 US 
Oct 25 00:30 Japan 
Oct 25 09:10 Sweden 
Oct 25 15:30 Italy  
Oct 25 17:00 US 
Oct 26 09:10 Italy