Analysis and Recommendation:
The USD/JPY added a few pips in early Asian trading on Monday. the Ministry of Finance reported that the country's trade balance fell to a seasonally adjusted -0.98T, from -0.46T in the preceding month whose figure was revised up from -0.47T. Forecasts had predicted the trade balance to fall -0.74T last month.  The report saw a lot of buying volume on yen. The Bank of Japan will meet on Oct. 30 to discuss monetary policy, and talk policymakers may take fresh steps to stimulate the economy weakened the yen against its U.S. counterpart at times during the session.  The only other highlight for the week is due out on Friday, when Tokyo Core CPI (-0.5%) will be released.
FxEmpire provides in-depth analysis for each currency and commodity we review. Fundamental analysis is provided in three components. We provide a detailed monthly analysis and forecast at the beginning of each month. Then we provide more up to the data analysis and information in our weekly reports.
Economic Data October 22, 2012 actual v. forecast
| | | | | | | | | | | |
| --- | --- | --- | --- | --- | --- | --- | --- | --- | --- | --- |
| Date |   | Currency |   |   | Event | Actual |   | Forecast |   | Previous |
| Oct. 22 |   | JPY |   |   | Trade Balance  | -0.98T |   | -0.74T  |   | -0.46T  |
|   |   | JPY |   |   | BoJ Governor Shirakawa Speaks  |   |   |   |   |   |
|   |   | TWD |   |   | Taiwanese Unemployment Rate  | 4.30% |   | 4.30%  |   | 4.29%  |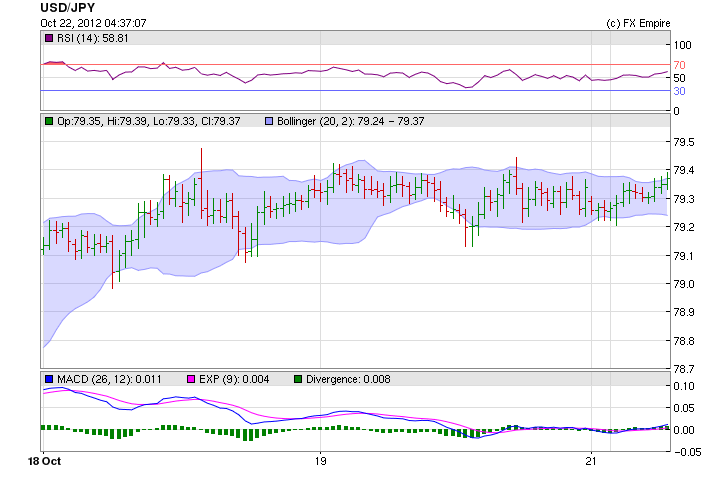 Upcoming Economic Events that affect the AUD, NZD, JPY and USD
| | | | | | |
| --- | --- | --- | --- | --- | --- |
| Date | Time | Currency | Event | Forecast | Previous |
| Oct. 24 | 01:30 | AUD | | 1.1% | 0.5% |
|   | 01:30 | AUD | | 0.6% | 0.5% |
|   | 02:45 | CNY | |   | 47.90 |
|   | 15:00 | USD | | 385K | 373K |
|   | 21:00 | NZD | | 2.50% | 2.50% |
| Oct. 25  | 22:45 | NZD | | -825M | -789M |
| Oct. 26  | 00:30 | JPY | | -0.5% | -0.4% |
Government Bond Auction
Date Time Country 
Oct 23 08:30 Spain 
Oct 23 14:30 UK 
Oct 23 17:00 US 
Oct 24 09:10 Sweden 
Oct 24 09:30 Germany 
Oct 24 14:30 Sweden 
Oct 24 15:30 Italy  
Oct 24 16:30 US 
Oct 25 00:30 Japan 
Oct 25 09:10 Sweden 
Oct 25 15:30 Italy  
Oct 25 17:00 US 
Oct 26 09:10 Italy