Analysis and Recommendation:
The USD/JPY is marching with its neighbors and remains flat, trading at 79.85 after the USD pushed up towards the all important 80 price level yesterday, losing momentum right before it was able to break through. There are little in the way of eco or event risk today and again tomorrow. The trade balance remains negative on the JPY and comments from the BoJ have been very negative. Markets are hoping for the BoJ to change monetary policy next week but it will most likely hold especially in view of the change in the JPY. There was some disappointing economic news from Japan that suggests the Bank of Japan might implement fresh monetary stimulus measures soon. Otherwise, it was a quiet start to the new trading week in Asia and Europe. Tensions in the Middle East are ratcheting a bit higher following fresh violence in Lebanon. The U.S. dollar index traded slightly higher Monday after a weaker start to the day.
The Japanese government on Tuesday piled fresh pressure on the BOJ to ease again, with the economics minister saying he wanted to attend next week's rate review to reiterate a call for bolder action to bolster the economy.
 FxEmpire provides in-depth analysis for each currency and commodity we review. Fundamental analysis is provided in three components. We provide a detailed monthly analysis and forecast at the beginning of each month. Then we provide more up to the data analysis and information in our weekly reports.
Economic Data October 23, 2012 actual v. forecast
| | | | | | | | | | |
| --- | --- | --- | --- | --- | --- | --- | --- | --- | --- |
| Date |   | Currency |   |   | Event | Actual | Previous |   |   |
| Oct. 23 |   | AUD |   |   | CB Leading Index (MoM)  | -0.8% | 0.0%  |   |   |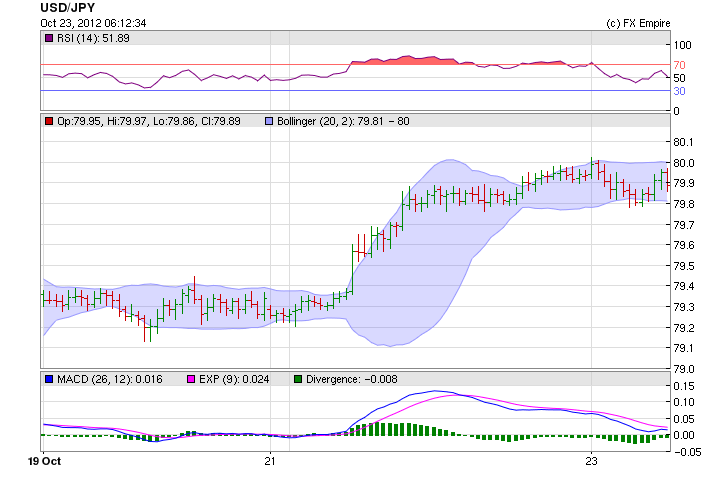 Upcoming Economic Events that affect the AUD, NZD, JPY and USD
| | | | | | |
| --- | --- | --- | --- | --- | --- |
| Date | Time | Currency | Event | Forecast | Previous |
| Oct. 24 | 01:30 | AUD | | 1.1% | 0.5% |
|   | 01:30 | AUD | | 0.6% | 0.5% |
|   | 02:45 | CNY | |   | 47.90 |
|   | 15:00 | USD | | 385K | 373K |
|   | 21:00 | NZD | | 2.50% | 2.50% |
| Oct. 25  | 22:45 | NZD | | -825M | -789M |
| Oct. 26  | 00:30 | JPY | | -0.5% | -0.4% |
Government Bond Auction
Date Time Country 
Oct 24 09:10 Sweden 
Oct 24 09:30 Germany 
Oct 24 14:30 Sweden 
Oct 24 15:30 Italy  
Oct 24 16:30 US 
Oct 25 00:30 Japan 
Oct 25 09:10 Sweden 
Oct 25 15:30 Italy  
Oct 25 17:00 US 
Oct 26 09:10 Italy