Analysis and Recommendation:
The USD/JPY is trading at 78.54 on Monday morning, with little volume, as Japan is closed for the holiday and US markets are open but it is the Columbus Day holiday, giving a lot of traders a three day weekend. There is little expected in the way of data and news outside of Europe today. The USD continued to trade strong on the back of the nonfarm payroll report on Friday, although the US faces earning season again, with markets a bit worried about the outcome. The pair is back once again trading in the mid 78 range.
The dollar dipped versus the yen on Monday, backing off of a two-week high hit late last week after a surprise drop in the U.S. unemployment rate soothed investor concerns about the U.S. economy's outlook. The U.S. unemployment rate dropped to 7.8 percent in September, its lowest level since January 2009, the U.S. Labor Department said on Friday.
Friday's data is unlikely to be enough to convince market participants that the U.S. jobs market is headed toward a strengthening recovery.
According to a business sentiment survey published by the Bank of Japan last week, the average dollar/yen exchange rate assumption that major Japanese manufacturers are using in their business plans for the six months to March 2013 is 78.97 yen.
That suggests that Japanese exporters may want to sell the dollar if it rises beyond that threshold. With little assistance from the BoJ at this monthly meeting last week, markets are trying to figure out how the strong JPY will affect the economy
FxEmpire provides in-depth analysis for each currency and commodity we review. Fundamental analysis is provided in three components. We provide a detailed monthly analysis and forecast at the beginning of each month. Then we provide more up to the data analysis and information in our weekly reports.
Economic Data October 8, 2012 actual v. forecast
| | | | | | | | | | |
| --- | --- | --- | --- | --- | --- | --- | --- | --- | --- |
| Date |   | Currency |   |   | Event | Actual | Previous |   |   |
| Oct. 08 |   | AUD |   |   | RBA Governor Stevens Speaks  |   |   |   |   |
|   |   | AUD |   |   | ANZ Job Advertisements (MoM)  | -2.80% | -2.40%  |   |   |
|   |   | CNY |   |   | Chinese HSBC Services PMI  | 54.30 | 52.00  |   |   |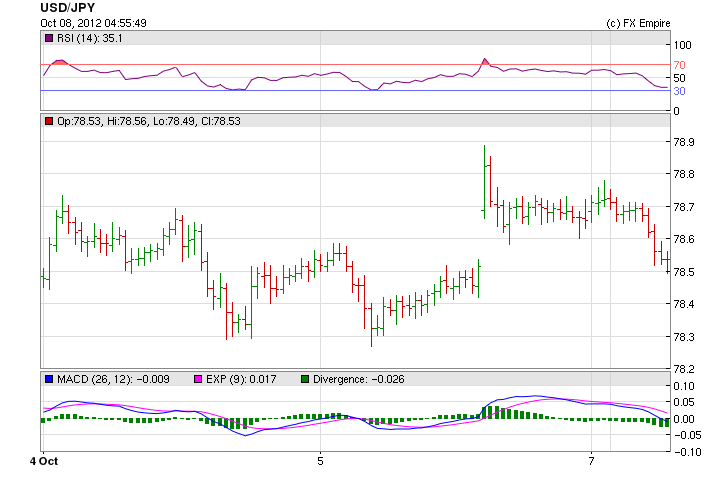 Upcoming Economic Events that affect the AUD, NZD, JPY and USD
| | | | | | |
| --- | --- | --- | --- | --- | --- |
| Date | Time | Currency | Event | Forecast | Previous |
| Oct. 09 | 01:30 | AUD | |   | -2 |
| Oct. 11 | 01:30 | AUD | | 3.8K | -8.8K |
Government Bond Auction
Date Time Country 
Oct 09 08:30 Holland 
Oct 09 09:30 UK 
Oct 09 14:30 UK 
Oct 09 17:00 US 
Oct 10 09:10 Italy  
Oct 10 09:10 Sweden 
Oct 10 09:30 Germany 
Oct 10 09:30 Swiss 
Oct 10 14:30 Sweden 
Oct 10 17:00 US 
Oct 11 09:10 Italy  
Oct 11 09:10 Sweden 
Oct 11 09:30 UK 
Oct 11 15:00 US 
Oct 11 17:00 US