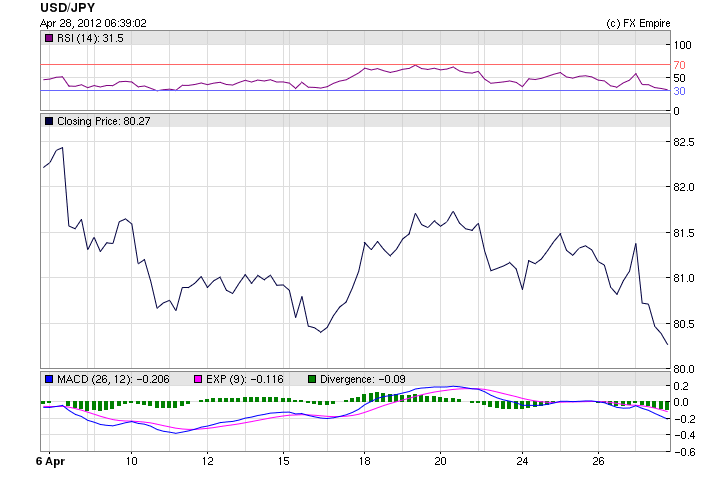 Outlook and Recommendation
The USD/JPY ended the month at 80.24 well of the high of 83.30. Throughout April the Japanese yen (JPY) retraced almost half its recent loses; however, with the Bank of Japan committed to a 1% inflation target and ongoing asset purchases, some disappointment on the fundamentals as well a building net short position (the CFTC reports this at US$9 billion), we expect the recent strengthening trend to reverse. Technicals warn of ongoing yen strength, accordingly upward shifts are likely to be somewhat limited. We hold a Q212 USDJPY target of 82 and a year-end forecast of 85. 
| | | | | |
| --- | --- | --- | --- | --- |
| Highest: 83.30 | Lowest: 79.74 | Difference: 3.56 | Average: 81.25 | Change %: -2.08 |
The currency environment in Asia offers a mixed outlook. Japan remains ready to intervene to moderate the appreciating winds in favor of the JPY as an established safe-haven asset and a target for portfolio diversification. In addition, the Bank of Japan is increasing its asset-purchase programme. However, the risk remains that a second round of distressed debt developments in Europe will surely inject a strong buying bias into the Japanese currency.
Central Bank Name: Bank of Japan
Date of next meeting or last meeting: Apr 27
Current Rate: 0-0.10 % (- 0.10)
Statement highlights of last meeting:  At the Monetary Policy Meeting held today, the Policy Board of the Bank of Japan decided, by a unanimous vote, to set the following guideline for money market operations for the intermeeting period: The Bank of Japan will encourage the uncollateralized overnight call rate to remain at around 0 to 0.1 percent. Overseas economies on the whole still have not emerged from a deceleration phase but U.S. economic conditions have continued to improve moderately and the sluggish European economy has stopped deteriorating.  Global financial markets have generally been stable. Japan's economic activity has shown some signs of picking up, although it has remained more or less flat.  Exports have so far remained more or less flat.  As for domestic demand, business fixed investment has been on a moderate increasing trend aided by the restoration of disaster-stricken facilities.  Private consumption has firmed up due in part to the effects of measures to stimulate demand for automobiles, and housing investment has generally been picking up.  Public investment has recently turned to an increase.  Reflecting these developments in demand at home and abroad, production has shown some signs of picking up, although it has remained more or less flat. 
 Important Economic events for the month of May affecting AUD,CNY,JPY,NZD and USD
Tuesday, May 01

00:30

 AUD

 

Interest Rate Decision

3.75%

4.00%

4.25%

 

00:30

 AUD

 

RBA Rate Statement 

 

 

 

 

10:00

 USD

 

ISM Manufacturing Index

54.8

53.0

53.4

 

Wednesday, May 02

08:15

 USD

 

ADP Nonfarm Employment Change

 

177K

209K

 

18:45

 NZD

 

Unemployment Rate

 

6.3%

6.3%

 

Thursday, May 03

08:30

 USD

 

Initial Jobless Claims

 

380K

388K

 

Friday, May 04

08:30

 USD

 

Unemployment Rate

 

8.2%

8.2%

 

08:30

 USD

 

Nonfarm Payrolls

 

170K

120K

 

Thursday, May 10

21:30

 CNY

 

Chinese CPI (MoM)

 

 

0.2%

 

21:30

 CNY

 

Chinese CPI (YoY)

 

 

3.6%

 

Wednesday, May 16

19:50

 JPY

 

GDP (QoQ)

 

 

-0.2%