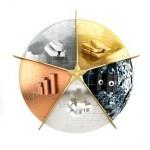 Gold
prices are expected to move down further after positive US numbers and poor physical demand from Asian economies.
Gold
added $1.90 to trade at 1296.20 but with no real hopes of recovery. Gold prices moved down on Friday as pressure over weak physical demand and positive US data has reduced the appeal for Gold. Physical demand in top bullion buyer Asia has been quiet due to the recent volatility in gold prices. America's top general in Europe has been sent back early, Pentagon called it a prudent step given Russia's "lack of transparency" about troop movements across the border with Ukraine. Hedge funds and money managers cut their bullish bets in gold and slashed a net long in
silver
futures and options nearly in half.
Silver
is trading at 19.783 down by 7 points diverging from gold this morning.
The US Dollar Index traded marginally higher by 0.1 percent in the last week on the back of mixed economic data from the country. However, overall the currency remained week due to upbeat market sentiments which led to fall in demand for the low yielding currency. The Dollar is trading at 80.37 up 3 points in the Asian session.  Gold continued its more than 3 percent fall for the second consecutive week as investors sentiment turned bearish after Fed Chair Janet Yellen said the central bank will probably end its massive bond-buying program this year, and could start raising interest rates around six months later. Recent forecasts of sharply lower gold prices at below $1,200 by Societe Generale and other bullion banks also prompted institutional investors to sell bullion. Decline in SPDR holdings also exacerbated the fall and exerted downside pressure on prices.
Base metals traded on a mixed note in the last week taking cues from mixed economic data from the US along with weak manufacturing data from China which exerted downside pressure on prices. Also, mixed manufacturing data from the Eurozone coupled with strength in the DX and mixed inventories data acted as negative factors.  While on the other hand, expectations of demand pick up in China owing to lower prices and rising orders supported gains. A rise in risk appetite in the market sentiments in the latter part added an upside to prices.
Copper is trading at 3.034 down by 6 pips after its strong gains on Friday. Copper prices jumped by around 3 percent last week on the expectations that demand will fasten in the world's biggest consumer, China given lower prices and increasing order book. Also, concerns that global supply will be lesser than forecasted on the back of shutdown in copper mines in the biggest producer, Chile along with rise in risk appetite in the market sentiments supported gains. Further, weak manufacturing data from the US, China and Eurozone coupled with strength in the DX could not restrict sharp gains.  Additionally, gain of 0.6 percent in inventories could not push the prices lower.