Gold
continued to ease into the weekend and is trading at 1279.30 in the Asian session. 
Gold
closed the week at 1281.70 regaining some of its losses as traders bought up the cheap metal. Gold ticked up slightly at the end of the week after a five-day losing streak but held near a two-month low and was headed for its worst week in five, hurt by strong US economic data and fears that the Federal Reserve could hike interest rates sooner than expected.
Silver
took its cues from gold but faired a bit better as US data supported industrial metal.
Silver
closed the week at 19.390 and climbed to 19.453 in the early morning.
 Analyst Frank Holmes of USFunds.com reviewed gold this week his comments were right on the money. The release of the Fed minutes this week resulted in a gold sell off on Thursday. The hawkish tone taken by the Fed fueled worries that a rate increase may come sooner than expected. Deflationary pressures continue to plague the global economy. Both food and energy prices have been significantly depressed over the past few weeks. Even in the U.S. where strong signs of economic recovery exist, the producer price index (PPI) increased just 0.1 percent month-over-month in July and just 0.2 percent year-over-year. Persistent deflation seeks to reduce gold's attractiveness as an inflation hedge.
Despite weak Indian gold imports in the first half of the year, demand in the second half is expected to be stronger due to the majority of the Indian holiday season falling during this time period. A significant amount of prizes used during these holiday festivals contain gold such as gold pots, coins and other decorations.
China has permitted three more banks to import gold. Standard Chartered, Shanghai Pudong Development Bank and China Merchants Bank were all given regulatory approval to import gold, according to Reuters. The news strengthens the opportunity for higher Chinese gold imports in the future.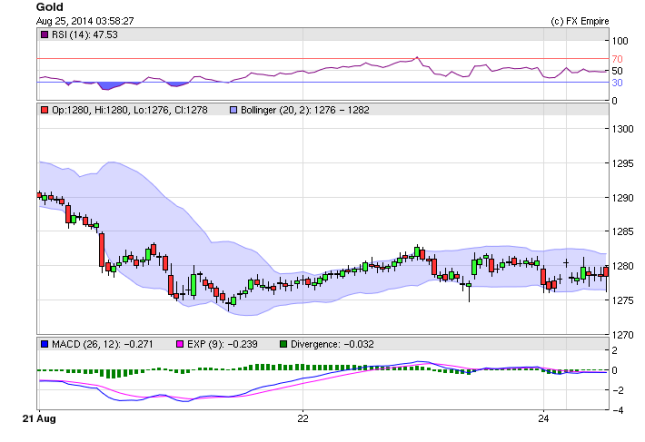 Shanghai is planning to implement a gold free-trade zone. On September 26, the Shanghai Stock Exchange is expected to start bullion trading in the city's free-trade zone, confirming the idea that Shanghai is determined to become a regional gold-trading hub. Xu Luode, the exchange's chairman, said that the gold contract will be priced and settled in yuan and trading should begin in the third quarter.
Physical demand in India surprised markets recently. As the Diwali holiday approaches, gold may regain some of its lost sparkle. Despite a 39% drop in the June quarter, gold demand in India is expected to pick up in the second half of 2014, as consumers who have deferred purchases anticipating prices to fall further could be back in the market. Jewelers said while it was too early to give a precise forecast about demand this Diwali, it would be better than a year before, when most of them had witnessed up to 40% drop in sales.
Base metals continued to gather strength, especially copper after strong housing data in the US. US housing is one of the largest uses for copper. Copper prices rose to their highest level in almost two weeks Friday, with some market participants attributing the industrial metal's gains to expectations of more economic stimulus from China, its largest consumer. Copper climbed 2.85 cents, or 0.9%, at $3.245 a pound its highest settlement since Aug. 5. Copper is trading at ­­­3.221 in the Asian session this morning.