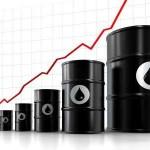 Crude oil
continues to gain as the week begins. The black
gold
living up to its name is trading at 105.65 adding 10 cents this morning. U.S.
crude oil
settled Friday up 0.99% at $105.55 per barrel, from the previous close of 104.91.
Brent
rose 1% to settle at $108.81 a barrel. Crude oil futures closed higher, to score a third consecutive weekly increase, with the market encouraged by Federal Reserve Chairman Ben Bernanke's recent assurance that the central bank was in no hurry to raise interest rates.
Crude prices were supported by a rally in gasoline futures as refinery outages raised fuel supply concerns during the US summer driving season. Chinese industrial production slowed to 8.9% though crude processing in refineries rose 10.8% in June. The Egypt's interim Prime Minister filled senior posts in the Cabinet on Sunday.
The International Energy Agency (IEA) has said political upheaval in Egypt and disruptions in Iraq, Libya and Nigeria are largely responsible for some of the increase in oil prices on the global market, UPI has reported. Global oil supplies dropped by 300,000 barrels per day in June to 91.2 million barrels, largely due to declines in production from members of the Organisation of Petroleum Exporting Countries. Non-OPEC supply, however, is expected to increase, Paris-based IEA said.
The Saudi Customs Department has reported a 13.5% increase in revenues to SR22.25bn in 2012, compared with the revenues of the previous year, Arab News has reported. The total value of goods imported to the kingdom last year jumped 19% to SR587.8bn from SR495.5bn in 2011. "Non-oil exports rose by 8% to SR170.4bn," as reported in AME info.
Reuters reported this morning that the average price of U.S. gasoline dipped slightly over the past three weeks due to plentiful supplies, but prices are expected to jump soon as retailers pass on the higher cost of wholesale gasoline to consumers, the Lundberg survey said on Sunday.
Gasoline cost $3.5908 a gallon on average, according to the widely followed survey of about 2,500 retail stations taken on July 12. That is 0.61 cent a gallon cheaper than the last survey on June 21, but still 18.05 cents higher than a year ago.
That average price masked a huge dollar difference in the price of gasoline in various cities. In a sampling of cities in the lower 48 U.S. states, the cheapest gallon could be found in Charleston, South Carolina at $3.22 while consumers in Chicago had to pay prices of $4.04.
Natural gas gained this morning to trade at 3.658 adding 17 points after updated weather forecasts called for above-normal temperatures for most of the US. Natural gas ended higher on Friday on warmer weather outlook for this week. Natural Gas is expected to move up as higher demand can support prices. Front-month gas futures on the New York Mercantile Exchange ended up 3.1 cents, 0.9 percent.