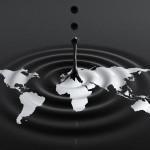 Crude oil
and
Brent Oil
prices eased this morning after the U.N. Security Council made progress in the quest to get Syria to relinquish its chemical weapons. The draft US-Russia resolution, seen by AFP, does not propose immediate measures over a chemical attack in Damascus one month ago. But it allows for possible sanctions — after a new vote — if there are breaches of an armament plan. The 15-member Security Council held its first talks on the text yesterday and a vote could be held today with several top ministers taking part, diplomats said.
Crude oil touched $102.69 and Brent oil was at 109.10 with the spread widening to close to $7 which indicates that we might see Brent oil take a tumbled The major global markets are awaiting trigger points before heading the next wave of an up or down move and, crude is also falling in the same territory. Especially from the US, the weaker than expected US inventory data and mixed set of economic data lately has pushed the WTI to underperform its UK-based peer, the Brent. Slowly but steadily, the Brent has managed to push higher than the former, with the spread between the two now standing near $6.4 per barrel, as compared to just $4.5 per barrel at the start of this week.
The UN council's five permanent members on Thursday agreed to a resolution calling for Syria to get rid of its chemical weapons. That helped ease fears of an escalation in Syria's civil war since the U.S. has been threatening to attack Syria in retaliation for what Washington says was a chemical gas attack by forces loyal to President Bashar Assad against civilians in suburban Damascus. The prospect of an attack and the potential for a disruption in oil supply routes, caused oil prices to spike in recent weeks. Prices have gradually fallen in recent days as diplomacy over Syria advanced. The progress at the U.N. on Thursday maintained the downward trend on the price of oil. With Syria moving to the back burner and an easing in ties between the West and Iran is weighing on prices. A meeting between US Secretary of State, John Kerry, and his Iranian counterpart yesterday has raised hopes of an easing of Western sanctions against Tehran over its nuclear programme. Such a move would allow the oil-rich nation to export more freely.
Positive reports for the U.S. economy pushed prices higher Thursday. The contract for benchmark crude gained 37 cents Thursday to close at $103.03 a barrel on the New York Mercantile Exchange. Oil had dropped $5.41, or 5 percent, over the five previous trading sessions. Oil prices rose as data showed that the number of Americans seeking unemployment benefits fell 5,000 last week to a seasonally adjusted 305,000, the second-lowest level in six years. The U.S. economy, meanwhile, was confirmed to have grown an annualized 2.5 percent in the April-June period.
Nymex natural gas prices declined around 0.1 percent yesterday on the back of more than expected rise in US natural gas inventories. Further, strength in the DX exerted downside pressure on prices. Additionally, forecast for above normal temperature will increase in demand for gas for air condition or heating purpose at this time of year exerted downside pressure on prices. Gas closed yesterday at 3.57 yesterday and is remaining close to flat this morning. The US Energy Information Administration (EIA) released its weekly inventories yesterday and US natural gas inventory increased more than expectations by 87 billion cubic feet (bcf) which stood at 3.386 trillion cubic feet for the week ending on 20th September 2013.