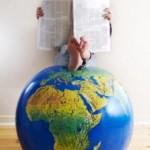 Australia's dollar headed for its biggest weekly gain in more than a month as signs of improvement in the global economy supported demand for riskier investments. Yesterday China's data met and some exceeded expectations, while GDP fell to 7.4% which was disappointed but expected.
Consumer confidence rose to a six- month high and an index of US leading indicators climbed as a nascent housing recovery started to ripple through the world's largest economy. The Bloomberg Consumer Comfort Index rose to minus 34.8 in the week ended Oct. 14, the highest level since April, from minus 38.5 the previous week.
US stocks fell for the first time in four days after Google Inc. reported lower-than-estimated earnings. The yen weakened, while Spain's bonds rose as the nation raised more than planned at a debt sale. The overall view in the US is that the economy is back on a recovery road, as we have had a week of solid eco data, except for a mixed, confusing unemployment report, that might involve some statistical errors. The Philly Fed Index surprised markets coming in well above forecast.
European leaders committed to their goal of establishing a euro-area bank supervisor by year-end, opening the prospect of direct aid to Spain's banking sector. The EU will seek to agree on a framework that makes the European Central Bank the main supervisor by Jan. 1. The marquee event today will be the press release from the EU Summit due early this afternoon. Traders are worried that Spain will not ask for a bailout, leaving markets hanging. Greece has been given a two year extension on austerity measures while their creditors review this budgets and plans. Yesterday violent riots broke out in Athens over the austerity measures and many people think that additional time will not help Greece and that more drastic economic might need to be implemented.
UK retail sales rose more than economists forecast in September on increased demand for winter clothing and school uniforms. The UK's FTSE 100 Index climbed for a fourth day, reaching a seven-month high, as European Union leaders gathered in Brussels to tackle the region's debt crisis.
China's stocks swung between gains and losses as overseas investment dropped and a Chinese central bank adviser said the government won't provide big stimulus after data yesterday signaled the economy may be picking up.
FDI in China fell for the 10th time in 11 months, as companies reined in spending amid a slowdown in the world's second biggest economy.
 Japanese shares swung between gains and losses as exporters rose on the Yen's seven-day advance against the dollar. Traders are now expecting the Bank of Japan to offer additional stimulus on their October 30th meeting.