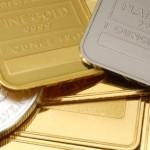 Gold
increase by 1%, reversing from the previous session's losses as US dollar dropped while declines in equities triggered physical buying.
Gold
is trading at 1393.75 up almost $2 in the Asian session while the US dollar is trading at 83.64.
Silver
is weighed down by a drop in industrial metals and is trading at 22.408 and
copper
is down 0.78% at 3.26 this morning.
Gold holdings of SPDR gold trust, the largest ETF backed by the precious metal, increased to 1,013.15 tons, as on May 29. Silver holdings of ishares silver trust, the largest ETF backed by the metal, declined to 9,992.92 tons, as on May 29. Copper futures closed slightly lower, as the restart of a large copper mine prompted worries about excess supply at a time when demand for the industrial metal remains subdued due to weak global growth. Although copper stockpiles are rising to the highest in a decade, but manufacturers are paying the biggest premiums for the metal in as much as 7-years as financing deals lock up supply and extend lines at warehouses. Gold demand in India, the world's largest buyer, is heading for a quarterly record after prices slumped to a 2-year low in April, as reported by the World Gold Council. The OECD reduced its world growth estimate for this year to 3.1% from a previous 3.4%. The International Monetary Fund trimmed its forecast for Chinese growth to 7.75% this year from 8%.
Gold is being supported by continued diversification from central banks and signs of increased physical demand which is countering continued outflows in ETF holdings. Central banks are buying gold as an overall strategy of forex portfolio diversification and the recent price drop will not deter them from a long term policy of diversification into gold. Central bank reserve managers are conservative rather than speculative and will ignore the day to day noise and price predictions emanating from certain banks in favor of passive allocations to gold as part of their foreign exchange diversification strategy.
Russia, Greece, Turkey, Kazakhstan and Azerbaijan expanded their gold reserves for a seventh straight month in April, buying bullion to diversify foreign exchange reserves due to concerns about the dollar and the euro. Russia's steady increase in its gold reserves saw its holdings, the seventh-largest by country, climb another 8.4 metric tons to 990 tons, taking gains this year to 3.4% after expanding by 8.5% in 2012, International Monetary Fund data show. Kazakhstan's reserves grew 2.6 tons to 125.5 tons, taking the increase to 8.9% this year after a 41% expansion in 2012.
Gold gained, paring a second monthly decline, as holdings in the largest bullion-backed exchange-traded product expanded while the dollar and Asian stocks fell. Silver headed for the worst run of monthly losses since June. The US will release some important data later today, including weekly unemployment, GDP estimates and housing data, which could send gold tumbling again. With just two days left in the month. We could see gold and silver closing even lower for the month.