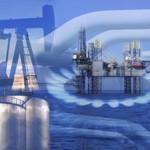 This morning, crude oil futures prices are hovering with loss and gains by holding the prices at $92.21 in International market. Concern of lowering demand of gasoline and distillates in US might be weighing on oil prices. The US energy department reported yesterday that demand has declined by more than 5 percent for distillates, whereas gasoline demand is down by 1 percent.
Crude oil prices closed yesterday in positive territory, as gains were supported by tensions between Syria and Turkey, while maintenance on North Sea oil-fields pushed the premium for Europe's Brent crude to another one-year high.
Brent's premium to US crude has raised nearly $8 per barrel in the past 3-weeks, with the European benchmark squeezed by declining North Sea output. North Sea crude oil output from 12 production streams is set to fall by about 1% in November as oil-fields return from maintenance more slowly than expected
The EIA reported yesterday that crude oil stocks rose 1.67mn barrels, distillate stockpiles dropped 3.18mn barrels and gasoline stocks fell 534,000 barrels Stocks at Cushing, Oklahoma, delivery point of the US crude oil future, rose by 300,000 barrels to 44.17mn barrels.
However, now that global eyes are on the China and Japan meeting output, as they agreed for the negotiation talk over the disputed land containing high oil and gas reserves. Thus, a premium from geopolitical tension both from Middle East (Syria –Turkey) and Asia (China – Japan) may add advantage on oil prices in later session. The National Hurricane Center reports that there is a storm named as Patty is coming closer to Gulf region may create concern of supply disturbances to support oil prices.
From economic data front, expected contraction in Euro-zone industrial production may weigh on shared currency to limit gains in oil prices during European session. Likewise, lower confidence data from US may limit gains during US session. Overall, trend for the day is looking upside with limited gains.
Natural gas rose almost 4% to a fresh 2012 high, after US data showed gas-storage levels rose by less than expected last week. Natural gas prices are holding this morning around $3.6/MMBTU, up by more than 0.20 percent on Friday morning Expect gas prices to trade on higher side for today session on speculation of higher demand. As per US Energy Department, storage level has been increased by 72 BCF in the last week, lower than prior week. This may indicate anticipation of more demand incoming winter is creating higher storage level which may support gas prices to remain on higher side. On the other side, concern of mild weather forecast may lead to lower consumption in eastern region and ultimately weigh on gas prices.