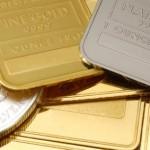 Precious metals prices fell yesterday, after the U.S. Federal Reserve stuck to its plan to keep stimulating growth until the job market improves but made few surprises in its policy statement. Gold declined but closed just above $1,700 per ounce.
This morning in the Asian session gold futures prices recouped some ground after touching the lowest in almost seven weeks and that would have spurred purchases as investors boosted holdings in ETFs. Gold holdings in ETF expanded to a record 2584.464 tons by raising demand for 2.54tons in a day. Holdings in the SPDR Gold Trust, the world's largest gold-backed exchange traded fund, stood at 1336.90 tonnes by Oct 24, remains unchanged from the previous business day. Central Banks and Funds have been buying up cheap gold as the commodity tumbles.
The Fed maintained its $40 billion monthly purchase of MBS and retained the near zero interest rate at least till mid 2015. Indicating for more accommodation in December, gold is expected to see demand for hedge after such correction. However, euro concern is still looming. It is observed that while the other majors have appreciated against the dollar, the euro only fell against the greenback which may be the glitch for the day.
Reports today may forecast the US durable goods order probably rose by 7.5% in the last month following a 13.2% fall in August which was the biggest drop since January 2009. Also, the recovery in housing sector is likely to continue with improvement in pending home sales. Tomorrow we will see the US GDP which is forecast to rise.
Agnico-Eagle Mines Ltd reported a quarterly profit on record gold production and boosted its output forecast for the year by 5 percent. Agnico said it now expects to produce some 1.03 million ounces of gold in 2012, up from a previous estimate of 975,000 ounces. While, Gold Fields, the world's fourth-largest bullion producer, said that 7,000 of its striking South African employees had appealed their dismissal notices.
Silver prices have regained ground after a continued fall since last seven sessions. From the fundamental front, Chinese silver demand may jump by 10% to 7700 tons with rising demand from photography, solar and electrical appliances. Augmented demand from the second largest user of silver and improved industrial usage may support silver prices. Silver ETF holdings have also expanded by 6.5% this year after touching 592million ounces last week. Holdings in the world's largest silver backed exchange-traded fund iShares Silver Trust stood at 9918.67 tonnes by Oct 24, up by 30.12 tonnes from the previous business day. A moderate US growth which is due tomorrow and past improvement in manufacturing sector may support silver prices.