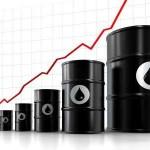 This morning crude oil futures prices have fallen more than 0.70 percent and currently hovering at $91/bbl in international market. Oil prices continued its bearish trend of last Friday ahead of today's meet of EU members with Iran in Luxembourg  Iran reiterated an offer to suspend domestic production of medium enriched uranium before today's meeting. The conflict between Iran and EU nations may result into Iran curbing its nuclear program in threat of tighter sanction. So, we may expect oil prices to take negative cues out this news ahead of the meeting result in the European session. On the other hand, the Turkish situation continues to escalate, with Turkey moving tanks to its borders.
Other than this, China crude oil import has been declined 1.8 percent in the last month, though the trade balance has been increased. Surprising markets over the weekend and early this morning China posted a long list of positive eco data, with many reports printing above forecast. China inflation numbers have shown a mixed figure, where CPI has increased, whereas PPI have declined.
Markets are now rethinking the possibility of stimulus from the PBoC, even though inflation was down, giving the bank room to maneuver, other data shows that programs already in place are having positive effects.
The IEA has also reduced the forecast for global oil demand for the coming year. Israel Central bank minister has said that World economy is nearing to recession. Most of the Asian equities indices are trading down which may continue to weigh on oil prices. Traders will be fixated on the EU summit scheduled the end of this week, concern of Eurozone debt related to Greece and Spain is keeping the shared currency under pressure which may support the negative trend in oil prices during European session also. However, during US session we may expect a pull back in oil futures price trend as improvement in US business activities can be seen. Economic data in the form of US advance retail sales and Empire manufacturing is likely to increase in the last month.
Natural gas prices are trading below $3.60 down by more than 0.80 percent this morning, mostly on profit taking and ongoing concern of slowdown in Global economy. Iran Nuclear deal talk on today might be keeping gas prices together in a lower side. Expectation of cooler weather condition in US may drive gas prices in a higher side along with improvement in US economic releases.
On the whole markets are expected to remain rather quiet until the EU Ministers shake things up with statements and interviews towards the end of the week. Most movement for energy this week will be related to Iran, Turkey and Syria. The tension between China and Japan seem to have finally reached the negotiating table.