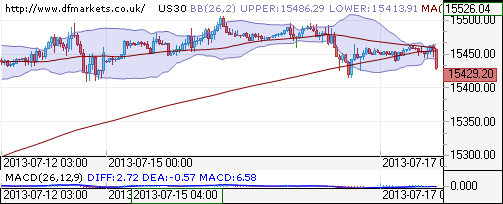 Wall Street ended its recent green rally, however, closing with minimal losses amid a rather weaker trading activity yesterday. The hesitant performance of the market was largely due to investors preferring to wait for the speech of Fed's Chairman Ben Benanke before US Congress later today and tomorrow. Bernanke is expected to share his detailed assessment of the US economy status for the first half of the year. 
The US stock market remains under the influence of Bernanke's firm statement last week that the quantitative easing programme will keep its pace, even if the economic indicators continue to improve.
The positive sentiment moved into this week and the indices reached new highs before slightly falling yesterday. 
The S&P500 was down as little as 6.24 points, or 0.37%, to 1,676.26 points, with the telecom sector being the only one to close on a positive territory.
The Dow also joined the downward slip and ended with a 32.41-point decline, or 0.21%, to 15,452. During the session, the index traded in a rage of about 83 points, and at one time even had a 14-point gain.
Just a day after touching its highest level in 13 years, the technological Nasdaq followed the negative trend and slipped by 10.12 points, or 0.3%, to 3,597.37.
On the earnings season front, some of the business heavyweights published their financial results yesterday. Coca-Cola (KO) posted a disappointing report, as its second quarter earnings fell below forecasts. The largest soft drink producer revealed a 2.6% decline in revenue to $12.7 billion. The news triggered a drop in the company's shares, which lost 2.4% to $40 per share.
Among the winners was Goldman Sachs (GS), whose financial report showed an increase by 30% to $8.61 billion, compared to $6.6 billion for the same period last year. Johnson and Johnson (JNJ) was one of the session's highlights, as the company reported that its earnings have more than doubled in the second quarter, to $3.83 billion. Despite the positive news, JNJ shares were little changed, to $90.40 per share.
Meanwhile, European markets were trading lower on Wednesday, ahead of Bernanke's speech, with France's CAC 40 down by 0.48%, Germany's DAX30 falling by 0.42%, and UK's FTSE100 decreasing by 0.40% at the time of writing.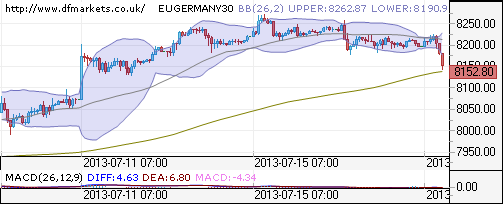 Elsewhere, Asian stocks were mixed, with Japan's Nikkei 225 climbing by a modest 0.6% and South Korea's KOSPI slipping by 0.5%.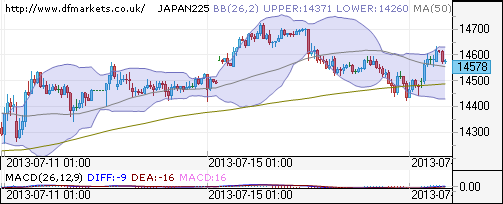 Looking further in the day, the centre stage will be taken by Bernanke's speech before US Congress, with other major events being US Building permits and Housing Starts, both for June.
The earnings season results continue to cause stir on the markets, with the next series of companies due to publish their financial reports for Q2 today including: Abbott Laboratories (ABT), Bank of America Corp, eBay Inc, Intel Corp and Novartis AG.
Source: dfmarkets.co.uk
Disclaimer: The Content of these charts and analyses does not constitute any form of advice or recommendation by Delta Financial Markets to buy, sell (or refraining from making) any trade or investment. You may wish to seek independent advice before entering into transactions.
Delta Financial Markets shall not be held liable by you or any others for any decision made or action taken by you or others based upon reliance on or use of information or materials obtained or accessed through use of these technical analyses and charts. DF Markets assumes no responsibility for errors, inaccuracies or omissions in these materials, nor shall it be liable for damages arising out of any person's reliance upon the information on this page. DF Markets shall not be liable for any special, indirect, incidental, or consequential damages.