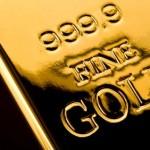 Gold rose yesterday to snap two days of hefty losses lifted by a dollar drop and by data showing U.S. consumer prices climbed but not enough to derail the Federal Reserve's ultra-easy monetary policy. The metal rebounded from Monday's one-month low, after U.S. Labor Department said U.S. Consumer Price Index climbed 0.6 percent in September, matching analysts' expectations and Augusts' reading. Gold sentiment is seen as positive today with the support of a stronger euro on easing concerns about the bloc's debt crisis after Moody's affirmed Spain's rating and German business sentiment improved. The dollar was lower against some other major currencies Tuesday after a Spanish official outlined some potential terms for a bailout request.
Concerns about whether Spain would ask for an international backstop for its rattled financial system had kept pressure on currencies seen as risky in recent weeks, sending investors into the U.S. dollar.
Gold holdings  of SPDR gold trust, the largest ETF backed by the precious metal, declined to 1,333.89 tons, as on Oct. 15. Silver holdings of iShares silver trust, the largest ETF backed by the metal, declined to 9,861.44 tons, as on Oct, 16.
Chinese imports of gold from Hong Kong slowed dramatically in August. Shipments of the metal totaled to 54 tons, a drop of 29% from the 76 tons shipped in July, as per data from the Hong Kong Census and Statistics Department.
Expect gold to stay strong (market dynamics) for the day amid optimism that the Europe will find a way out of its debt trouble. Merkel's comment on fully controllable EU episode would have checked the unprecedented global shock and that led the market optimism higher. Nevertheless, the optimism will be continuing only if Rajoy formally ask for the bailout. Because the government has indicated that they may not provide a unanimous back up to the region, concern then may turn towards the highly indebted Italy along with Spain. So, probability of a sudden death in EU cannot be completely ruled out. We think banking integration may not be possible which may hamper euro's stability.
Fundamentally the gold supply has been disrupted as the second largest  producer South Africa has seen an unlimited mine strike due to unlawful labor clauses. It has already cost 65000 ounces of gold. This would be a long term phenomenon for gold price support but the market dynamism is something to make it volatile on intraday basis.
Markets will become volatile over the next few days as news flow from the EU Ministers before, during and after the Summit will affect markets.