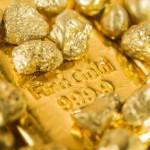 Gold dropped 1% yesterday, its biggest one-day drop since July, as encouraging U.S. retail sales data prompted funds to reduce their bullish bets in bullion after its recent sharp rally. The retail sales report and a string of brighter U.S. economic indicators prompted a knee-jerk decline in gold on fears the Fed might curb stimulus. Richmond Fed President Jeffrey Lacker, an inflation hawk who has dissented at every policy meeting this year, said the Fed's latest monetary stimulus risks unwanted inflation and will not do much for economic growth. Investors fretted over Spain's bailout plan. Euro zone officials have said that Madrid could ask for financial aid next month and if it does the request would likely be dealt with alongside a revised loan program for Greece and a bailout for Cyprus in one big package.
The US dollar closed with marginal gains, as US stocks gave up early gains and traders awaited a meeting of European Union leaders later this week amid speculation over prospects for a Spanish bailout and help for Greece. The dollar index, which measures the greenback against a basket of six major currencies, rose to 79.711 versus 79.677 in North American trade on late Friday.
Gold futures prices were poised for slight advance on today's Globex session after a two day slump that fetched the metal to the level when Bernanke announce QE-3 in September 13. Asian shares also gained, led by the Japanese bourse after its third biggest telecom operator Softbank announced to buy 55% stake of Sprint and infused the US carrier with $8billion to help reduce the debt. Although the Euro has recovered a tad from yesterday's fall, market might be awaiting for the EU summit on Oct 18-19. Anticipation regarding Spanish bailout and integration of the nation's finances would be supportive for the Euro but any delayed Greek aid and an unasked Spanish bailout will be devastating for Euro. Hence, the shared currency is expected to be volatile for the day.
Later today reports are likely to forecast some improvement in the US housing sector and the manufacturing sector. Any better than expected data release from the US is likely to put gold under pressure. Also the Eurozone ZEW surveys also seem to be weak which might keep the euro and gold under pressure. Gold holdings in exchange traded products have also declined for a second straight day indicating weakness in investment demand. Gold holdings  of SPDR gold trust, the largest ETF backed by the precious metal, declined to 1,333.89 tons, as on Oct. 15. Silver holdings of iShares silver trust, the largest ETF backed by the metal, declined to 9,885.54 tons, as on Oct, 15.
Volumes at the COMEX has registered the highest in last four trading sessions which indicates more down side is evident. Nevertheless, gold production from South Africa has stalled with an estimated loss of 50% output (nearly 67million ounces/quarter) due to an unabated strikes for labor laws. This might support the prices in longer term but for intraday basis, market dynamics is still negative for the metal.