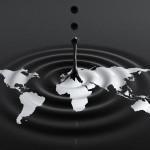 This morning in the Asian session
crude oil
prices are trading almost flat at $92.10/bbl. Today is one of the crucial days for the Global markets as the final speech and press release is expected from the EU summit. Germany and France, the two major nations are butting heads over the formation of banking union or fiscal union. Likewise, Spain may refrain from asking for a bailout which may keep the shared currency under pressure to weigh on oil prices. If Spain does not make a request, there will be a lot of violence in the markets. Another important reason is that investors might be in a fear of repeating last 25 years of history of market crashes.  If the dollar gains on the
euro
, on negative responses from the Summit, we might see this weigh on oil and overall commodity prices today
A slowdown in China's Foreign Direct Investment has also weighed on the regional equity market. Oil prices might be taking negative cues out of the above factors. During European session, we may see a highly volatile market ahead of EU summit result. However, the shutdown of Keystone Pipeline for coming three days may create supply shortage in US, although with the unexpected high inventory this week, this should not be an issue. Although it may support prices to hold a positive bias with limited gains in International market.
Tensions in the Middle East are still on high, but rhetoric and attacks have subsided somewhat. The EU Summit might be making some comments or adding to the embargo against Iran, which could spark harsh words and threats from Iran. Although, thing will Iran seem to be succeeding at the bargaining table as of late.
Natural gas prices are trading almost flat at $3.6/MMBTU after rising yesterday Nymex natural gas prices increased around 2.9 percent yesterday on the back of forecast for more cold weather in the next month which will increase the demand for the fuel. On one side threat of supply disturbances is supporting gas to take positive cues on the other side; it is concern of above normal weather condition which is limiting gains. As per US Energy department, storage level injection has been increased by 51 BCF, which is lower than prior week injection. This, may support prices for a while whereas Slow down in world economic situation and US energy independence plan might be weighing on gas prices. Though pull back is expected in the US session due to expectation of higher industrial production in the last month.