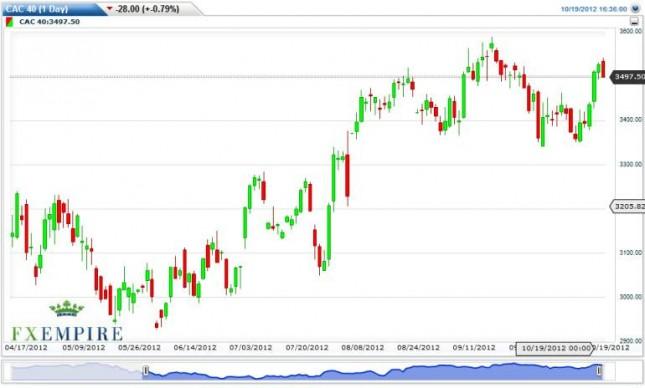 The Paris index had a fairly bearish day on Friday, as profit-taking became the norm worldwide. This area we find ourselves in currently at the €3500 area is a significant spot on the chart, and as such it will be interesting to see where the market goes next. As a general rule, we have found that once the European lawmakers meet, disappointment generally overcomes the financial markets on the whole. This certainly was the case during the Friday session as stock indices sold off in lieu of a fairly unimpressive bank bailout situation in the European Union.
Adding to that was the continued reluctance of the Spanish to accept a bailout, and as such we are still in the same position that we have been in for far too long. Many French banks are heavily exposed to Spanish debt, and as long as there is a doubt about what's going to happen, there will be a certain amount of pessimism in the Parisian index on the whole. With this being said, it is difficult to get overly long of this market, and you would have to imagine that a range bound trading feel wouldn't be too hard to accomplish.
Looking at the charts now, it appears that we are simply trying to get range bound between €3600, and the €3350 level. If this is the case, then we are certainly at the top of the range and would expect a pullback over the next couple of sessions. This will certainly be true as long as the financials way down French stocks, as they are one of the leading drivers.
Looking at this chart, if we managed to break below the €3300 level, we think this would be an extraordinarily bearish sign. If that's the case, we would begin shorting any French bank and we possibly could, mainly because we understand that the catalyst would more than likely be something to do with Spanish debt more than anything French related. As far as going long, if we get above the €3600 level, we think this is a buy and hold market.