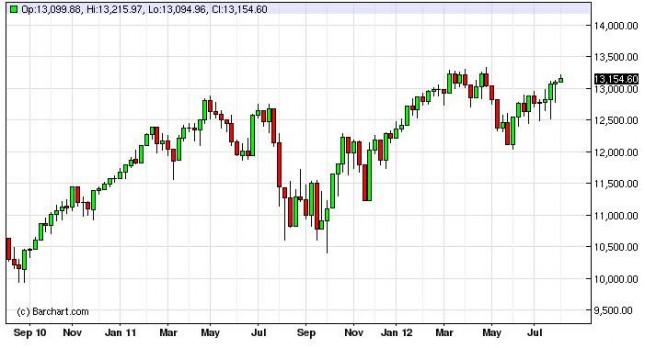 The Dow Jones Industrial Average had a slightly positive week over the last five sessions, only to stall just below the recent highs. This market looks much like the S&P 500 in the sense that it seems pressure is building from the underside in order to push equity prices higher. Just as the S&P 500, this market is more than likely being driven by anticipation of monetary easing out of the Federal Reserve.
This sets up a potentially dangerous situation in September. If the markets get what they want, it could be a "sell on the news" type of situation. However, the markets don't get is much easing is it once; this could become a very ugly situation very quickly. Because of this, we think that the rallies that are trying to form now will more than likely be somewhat limited.
Nonetheless, we do see value in the Dow Jones 30 at the moment, and think that higher equity prices are probably going to be coming. The hammer from the previous week at the 13,000 level certainly suggests that we are going to get quite a bit of support at this area, and we should see another attempt a breakout. Once we reach the 13,250 level, we should see the markets try to break out as that has been overly resistive in the past.
There are also support areas below at the 12,000 and 12,500 levels. Both of those look relatively strong, and should be supportive once we fall to that general vicinity. If this happens, we would be more than willing to go long the stock markets on supportive action such as a weekly hammer or some type of bullish engulfing candle.
With central bank easing seemingly on the way, the next couple of weeks should be rather positive for the stock markets in general in the United States. However, as mentioned above there is serious headline risk once we get the announcement, and as such we think that the move higher could be capped a little buy that announcement. Nonetheless, we are in favor of going long over shorting this market.