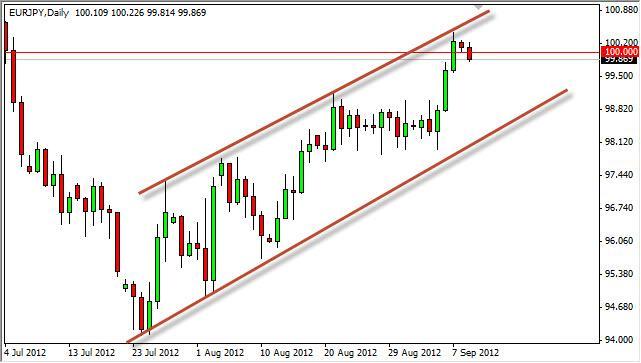 The EUR/JPY pair fell during the Monday session as the 100 handle continued to offer resistance. We suspect that a pullback to the 99 level was in the works, as it would suggest to us that more buyers would need to step in order to push this market higher.
This would surprise us, as this market has had a nice run over the last couple of months, and certainly traders out there are noticing it. However, there is a lot to chew through on the upside as far as resistance, and it will take quite a bit of a fight. More and more buyers need to step in order to push prices higher, and as a result this could be a bit of a struggle going forward.
For the short-term, we suggest that this pair will fall to the 99 handle, and then look for support. Depending on your time frame, you could sell this pair for a quick 80 pip game, ending turn around and flip the trade. We think this will be a very volatile currency pair, as it tends to follow the "risk on, risk off" attitude of the markets. With this in mind, this may be a better short-term traders market.