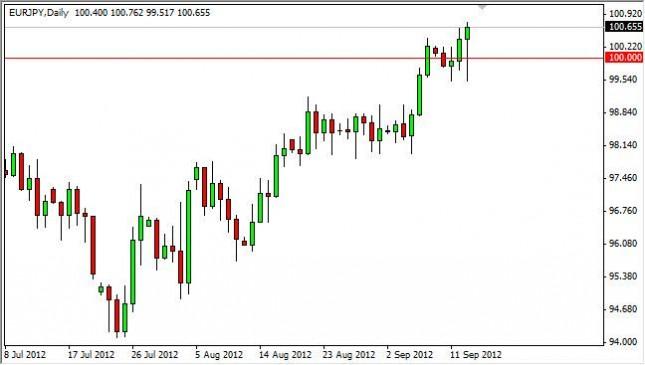 The EUR/JPY pair fell initially during the session on Thursday, but once the Federal Reserve came to the rescue and expanded its monetary easing policy, all asset prices shot straight up. This of course helped the "risk on" currency pairs, such as this one.
The candle for the session now forms a hammer that seems to have found support at the 100 handle. However, we see resistance until we get above the 101 level, and as such we are cautious at the moment as far as buying this pair. Nonetheless, if we do close the session on Friday above 101, we feel it is time to buying this market as there is nothing but air above it until we get to the 110 level.
Unlike the EUR/USD pair which will get all kinds of press and attention over the next several sessions, there isn't a whole lot of resistance above current areas being traded in this market. With the EUR/USD, there is still a significant amount resistance over the next couple of handles. In this particular pair however, you have an interesting dynamic as the Bank of Japan is watching the Japanese yen in general.
If you have the Euro rising in general like we do now, and the Bank of Japan is working against the USD/JPY pair as it falls, there is a real possibility that the central bank will help you out in this trade if you are long. With the Euro being naturally strong anyways, and the Yen being sold off by its own central bank, you could see a bit of a boost in this pair. When this kind of price action and fundamentals line up, you could have a really powerful move in short order.
Because of this, we're going to be very interested in how the pair closes on Friday. We believe that this could be a bit of a long-term trade, and as such it also could earn you pretty decent swamp as it is a positive swapper the end of the day. As for shorting this pair, we wouldn't do it until we got below the 98 handle.