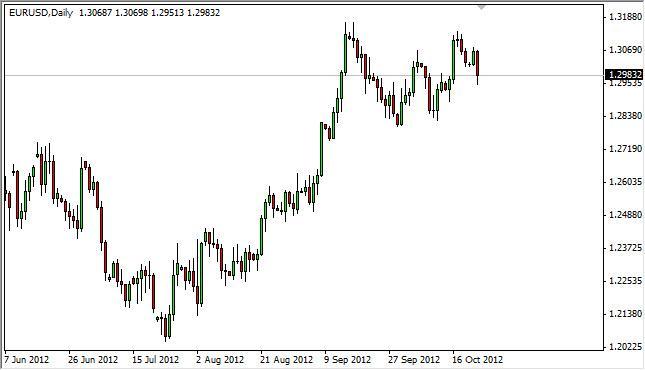 The EUR/USD pair fell during the session on Tuesday as we retested the 1.2950 support level. This is currently in the middle of the overall consolidation, and as such we think that there is a decision to be made at this point time.
Simply put, we believe that the outer limits of the support and resistance of this consolidation are found that the 1.32 and 1.28 levels. As we are and the middle of this consolidation area, it isn't necessarily the appropriate place to look for a trade, and as such we are currently flat. However, we think that this area could provide support and if it does, we would think that a breakout to the upside would be coming.
This is because quite often consolidated areas like this will suddenly not make the same lows that they used to be for building momentum to the upside. However, the area above all and all the way to the 1.35 level looks like it has a lot of potential to be overly resistive, and will be very difficult to overcome by the bulls. With this in mind, it is difficult to be long of this pair right now, although it has been very bullish since July.
As for the downside, if we see the 1.28 level collapsed as support, we think this market could go much lower. The downside certainly has more room to run at this point in time, especially when you take into account all the things that are going on in Europe right now. There has been no request for a bailout by Spain, and no suggestion that it's coming right away. This has been disappointing for the markets, and you have seen a general "risk off" type of trade over the last 48 hours. With this being said, it does look like there is serious risk to the downside in risk assets in general.
This pair has been very ugly to trade over the last month or so, and as such we find that trading the Euro against other currencies has been a much cleaner trade then we seen in this market. Is because of this that we have been avoiding trading the Euro against the US dollar.