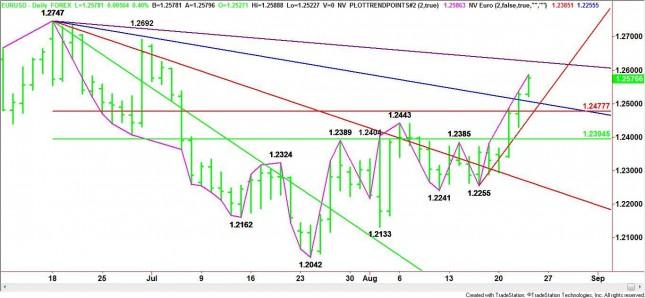 The EUR/USD continues to hold on to its strong gains at the mid-session, putting it in a position for further upside action into the close. Since accelerating through a short-term top at 1.2385 earlier in the week, the Euro has crossed over to the bullish side of a major retracement zone at 1.2394 to 1.2478. This fresh demand helped drive the market to a new high for the month when it crossed the former top at 1.2443. 
If upside momentum continues today then the market could trade as high as 1.2455 before encountering new resistance. On the downside, 1.2627 is the nearest support, but a break down to this level will likely mean the Euro has formed a potentially bearish reversal top. 
Because of the size of the rally and the steepness of the move, long momentum traders should watch for the aforementioned reversal top since this is the signal that often leads to the start of a near-term correction. In addition, since this is a news driven market, traders should watch for momentum to slow as the market approaches a pair of former tops at 1.2692 and 1.2747. 
The fact that the trend is up on the daily chart is giving investors some clarity on a short-term basis. This clarity is leading to confidence to trade the long side despite the clearly defined downtrends on the weekly and monthly charts. 
This week's trading action has taken out an important downtrending trendline on the weekly chart, triggering additional buying. The main trend remains down for this time period and will remain so until the mid-July top at 1.2747 is violated. 
Fundamentally, since this rally began in late July with friendly comments from European Central Bank President Mario Draghi and has gathered steam from talk of additional stimulus for the Euro Zone from the ECB and for the U.S. economy from the Fed, it could come to an abrupt ending if positive action isn't taken soon. Additionally, long-traders should be on alert for a possible "buy the rumor, sell the fact" situation especially since the masses expect these central banks to act decisively over the near-term. 
Since speculation is driving the EUR/USD higher, the lack of activity or clarity combined with technically short-term overbought conditions could lead to a fast near-term break. This move could be magnified if it is coupled with renewed sovereign debt problems in the Euro Zone.