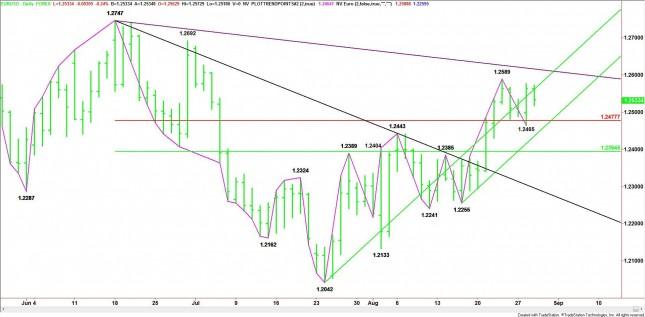 The EUR/USD is trading slightly lower at the mid-session. The lack of fresh news is helping to hold the market range-bound. Some traders are standing aside as they await U.S. Federal Reserve Chairman Ben Bernanke's speech at Jackson Hole, Wyoming on August 31. Additionally, some speculators are counting on the European Central Bank to announce its latest bond purchasing program.
Today's weakness in the EUR/USD is being attributed to the stronger dollar due to better-than-expected U.S. economic data. Earlier today it was reported that GDP beat the estimate and housing improved. While both reports weren't blockbuster events, they did raise doubts that the Fed will take quantitative action shortly.
Technically, the main trend is still up on the daily chart. At this time the two keys bottoms are 1.2241 and 1.2255. A trade through the 1.2589 top will make 1.2465 a new key bottom. This action will allow long traders to move up stops to slightly below this bottom. A move through this price will turn the main trend down while a trade through 1.2489 will reaffirm the uptrend.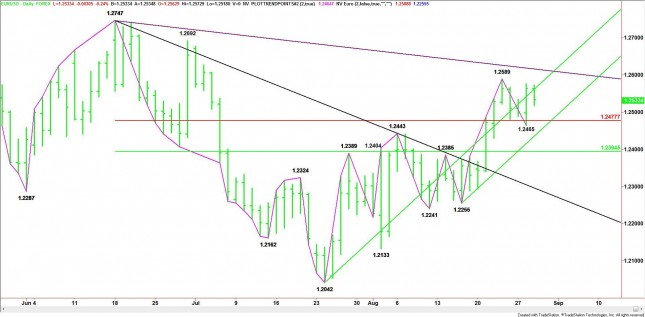 This morning the EUR/USD was straddling an uptrending Gann angle at 1.2562. A close over this angle will put the market in a strong position. Additional support is at 1.2435 today. Since this price is inside of a major retracement zone, it could encourage fresh buying.
Since the Euro is trading on the bullish side of a major retracement zone at 1.2478 to 1.2394, we can conclude that there is a bias to the upside. If the Euro falls back into this retracement zone, then this action will indicate that sentiment has become neutral. The Euro will turn weak against the U.S. Dollar if it closes under 1.2394.
Although the EUR/USD is showing an upward bias, volatility and volume have been low. This represents a typical summer market. It is possible that the rally from 1.2042 in late July to nearly 1.2600 was triggered by profit-taking and short-covering, but with the fundamentals beginning to suggest positive moves by the ECB and additional stimulus from the Fed later in the year, traders should begin to prepare for increased volatility when volume returns to normal.