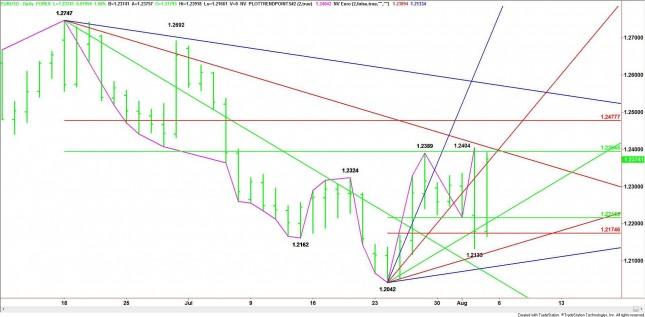 The EUR/USD is trading higher at the mid-session, buoyed by a weaker U.S. Dollar. The Greenback is trading lower following a stronger-than-expected U.S. Non-Farm Payrolls report . The Euro is getting a boost from strong bond auctions in Spain and Italy.
The U.S. government reported today that July non-farm payrolls grew by 163,000. Pre-report guesses were for an increase of 100,000. This news drove up demand for higher risk assets while driving down demand for the dollar and U.S. treasuries. Higher-yielding assets got an additional boost after the ISM Services report showed an improvement last month.
This unexpected demand for risk comes one day after the European Central Bank failed to provide concrete details for a plan to provide additional stimulus. Many thought that the ECB would announce a renewal of its bond purchasing program. Last week ECB President Draghi gave investors hope when he pledged to do 'whatever it takes" to preserve the Euro. Today's action seems to indicate that perhaps traders overreacted to the ECB's position and that maybe conditions are not that bad to warrant additional aid at this time.
After trading lower on Thursday, Spanish and Italian two-year bonds rallied on Friday. Ten-year yields did not fall as much. Since Draghi said on Thursday that any future ECB bond purchases would focus on the short-end of the yield curve, this could be a sign that the market is getting ready for near-term action by the central bank.
The EUR/USD was also buoyed by rumors that Spain's government was ready to apply the Euro Zone's rescue fund as a means of controlling borrowing costs.
Technically, the EUR/USD has recaptured most of Thursday's loss. The currency pair is still trading inside of its near-term range of 1.2042 to 1.2404, but now appears to have established solid support at the retracement zone of this range at 1.2215 to 1.2175. A breakout over 1.2404 could trap traders at a resistance point at 1.2407, but once this price is broken, the Euro could accelerate to 1.2478.