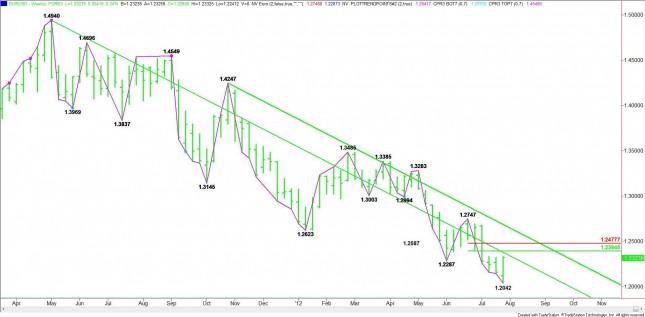 Positive comments from two European officials and another sign of a weakening U.S. economy are helping to drive the Euro higher against the U.S. Dollar at the mid-session.
In today's trading session German Chancellor Angela Merkel and French President Francois Hollande endorsed earlier comments from European Central Bank President Mario Draghi when they said they were determined to do everything possible to protect the Euro Zone. This helped the Euro gain in a follow-through rally following Thursday over 1% surge to the upside.
Later in the session, the U.S. reported that GDP had risen only 1.5%. This was below the revised 2% figure from the first quarter, but higher than pre-report guesses. This news supported the U.S. Dollar temporarily before traders realized that this low figure probably moved the Fed a little closer to fresh stimulus in late August or September.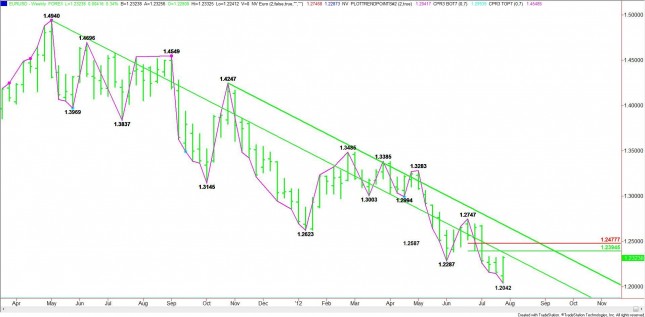 Technically, the EUR/USD turned the main trend up on the daily chart and is in a position to post a weekly closing price reversal bottom. Much of the rally is short-covering, but these two moves could give confidence to aggressive traders to explore the long side of the market with some speculative buying. With talk centering on central bank stimulus intervention and the chart patterns turning slightly bullish, the combination of these two factors could lead to more upside action next week.
While a weekly closing price reversal doesn't necessarily mean an impending change in trend, the chart pattern can temporarily stop a decline and trigger a 2 to 3 week rally equal to at least 50% of the last break. Based on the short-term range of 1.2747 to 1.2042, the first upside objective of the reversal is 1.2394 to 1.2478. It doesn't seem like much because of the strength of the rally this week, but given the size of the sell-off, it's a start.
If the market can overcome the retracement zone then the next objective will be 1.2687. Only on a move through the June 18 top at 1.2747 will the main trend turn up on the weekly chart. Until then the market may be guided higher by the strength of the daily chart, but it is going to take actual solutions to Euro Zone problems rather than just comments to change the trend to up on the weekly chart.