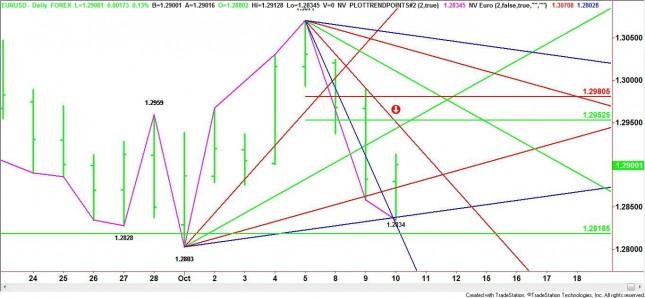 Short-term oversold conditions are leading to a rebound in the EUR/USD at the mid-session. Sellers became scarce as the market approached a slow-moving, uptrending Gann angle at 1.2838 and the low for the month at 1.2803. Looking at the bigger picture, a major 50% level at 1.2818 may have also influenced the decisions of traders. 
Today's action suggests the formation of a minor closing price reversal bottom. This could lead to a 1 to 2 day retracement of the last break. Based on the near-term range of 1.3071 to 1.2834, traders should look for a possible rally to 1.2952 to 1.2980. 
Before the EUR/USD reaches this zone, it must penetrate a downtrending Gann angle at 1.2951 today. This angle has provided solid guidance and direction for the market since the top was reached on October 5. 
The test of the retracement zone is very important to the structure of the current chart pattern on the daily chart. If the rally stops in the retracement zone then this will be a strong sign that sellers are taking control and that sentiment is getting ready to shift to the downside. The technical term is secondary lower-top. This type of top often attracts heavy selling pressure so traders should watch for the shift in sentiment to take advantage of the potential break. 
Crossing back over to the bullish side of this retracement zone will be a sign of strength. This will mean traders will go after the top. A breakout over 1.3071 will confirm the double-bottom at 1.2803 and 1.2834.