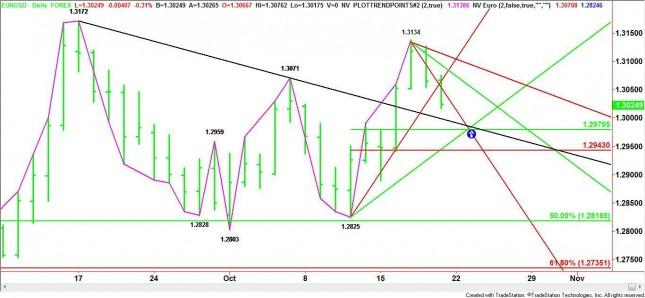 The EUR/USD continues to give ground at the mid-session. The lack of demand for higher-risk assets is part of the reason for the sell-off. The other reason is the perceived complacency of the European Union officials who appear to be less aggressive since the Euro is no longer in a free fall. 
Technically, a two-day break does not mean the trend is changing to down on the daily chart. It probably means that investors still want proper confirmation that Spain is going to ask for financial aid, not just speculation. Although the EUR/USD did break through a trendline earlier in the week, the inability to take out the September 14 top at 1.3172 makes the move look more like a short-covering rally rather than new buying. 
Based on the short-term range of 1.2825 to 1.3134, the new downside target is the 50% price at 1.2979 and the 61.8% level at 1.2943. To get there, the market has to continue to walk down a Gann angle currently at 1.3054. This angle crosses the 50% level on October 23. At the same time, an uptrending Gann angle currently at 1.2945 crosses this level. Finally, the trend line that triggered the breakout also converges at the same area. The combination of all of these points creates a downside target and can be called a valid support cluster. 
Since the main trend is up, traders should look for a technical bounce on the first test of this support cluster. If enough buyers come in, a new higher bottom may be created, setting up the Euro for another rally against the U.S. Dollar.