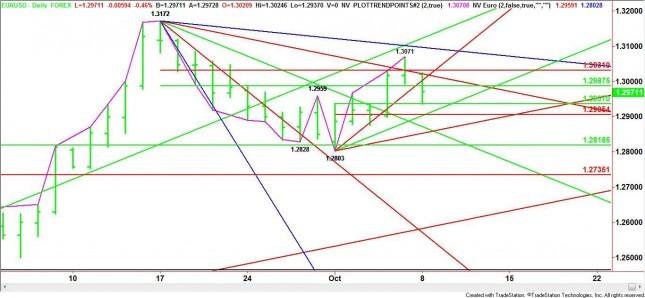 The EUR/USD is trading lower at the mid-session after a steady opening. Since reaching a high at 1.3071 on Friday shortly after the U.S.employment report, the currency pair has shown steady weakness. 
Although the main trend is up on the daily chart, today's action suggests that more downside pressure is likely. Based on the short-term range of 1.2803 to 1.3071, traders should look for a test of a retracement zone at 1.2937 to 1.2905. Today's low hit the upper level precisely, triggering an intraday technical bounce. 
Further downside pressure should target the 61.8% or Fibonacci price level at 1.2905 along with the uptrending Gann angle at 1.2903. The combination of these two prices forms a near-term target and support cluster today. 
On the upside, breaking the uptrending Gann angle at 1.3003 was the first sign of weakness today. The new resistance angle is at 1.3022. This angle is dropping .001 per day and should provide guidance and direction for the market over the near-term. 
Traders should brace for both trend and counter-trend moves this week as traders await some clarity regarding Spain's formal request for European Central Bank bailout money as well as news regarding Greece's finances. European officials want to determine if Greece is eligible for another batch of bailout cash if it has its financial house in order.