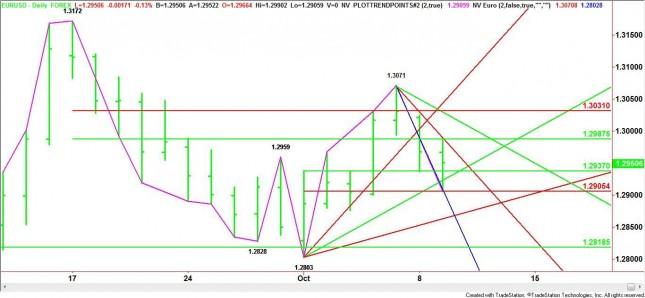 After ping-ponging between a pair of retracement zones, the EUR/USD is trading decisively lower at the mid-session. 
Early in the trading session, the EUR/USD found resistance at a 50% price level at 1.2987 and a downtrending Gann angle at 1.2997. This resistance cluster encouraged fresh selling pressure that drove the market into another retracement zone at 1.2937 to 1.2905. 
The first level at 1.2937 stopped the break, garnering some light buying interest that triggered a "soft" intra-day retracement. After this rally failed, new sellers emerged, causing earlier intraday support to fail. This fueled a break through an uptrending Gann angle at 1.2923 and into a Fibonacci level at 1.2905. 
Selling pressure continued as all of the potential support levels failed to attract any substantial buyers. At the mid-session, a combination of fresh short-selling and profit-taking drove the EUR/USD to the low of the session at 1.2906, setting up the currency pair for a late-session test of another uptrending Gann angle at 1.2863. 
Although the main trend is technically still up, today's action suggests a shift in power to the short-sellers. Unless buyers step up to defend support levels, the daily trend may change to down by the end of the week.