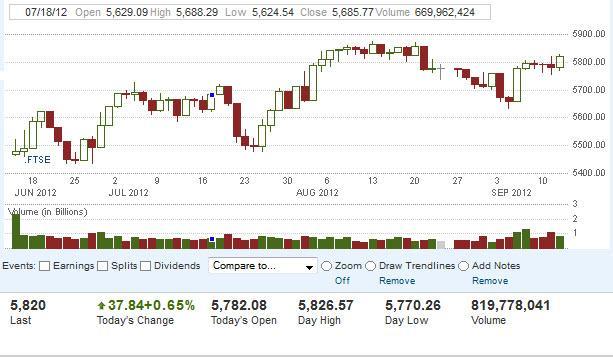 The FTSE 100 had a positive session on Thursday as the "risk on trade" came back into play. We have broken above the 5800 level substantially, and as such it does look like we're going to continue to see British stocks rise. We think that the 5850 level will be a minor hiccup on the way back to the 6000 level. Because of this, we are bullish of the higher beta stocks in Britain.
It should also be noted that the Federal Reserve took on a massive easing later in the session on Thursday, and as such we should see larger firms in the United States looking for higher yields worldwide. A lot of money could be flowing into the London Stock Exchange as a result, and as such we think that 6000 will eventually be broken to the upside.
We believe in trading the ETFs that track this index as opposed to trying to pick a particular stock. However, if we were forced to trade a particular segment of the stock exchange, we would look for the banks to be one of the largest benefactors of recent changes.