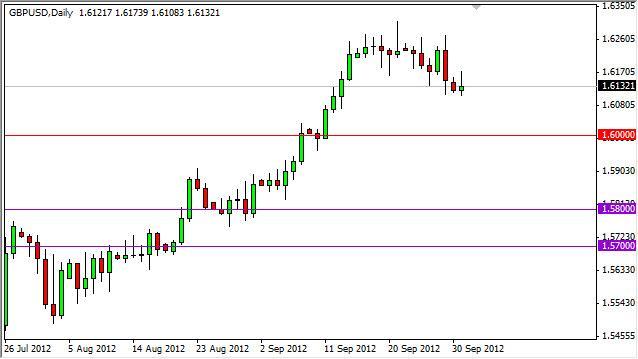 The GBP/USD pair rose during most of the session on Monday, but lost many of the gains in order to form a shooting star. This shooting star is in the bottom of the most recent pullback, and it does look like further weakness could be coming into this market. With this in mind, we do recognize that it is an extremely bullish market, and this will be more along the lines of a pullback rather than some type of massive selloff.
We see the 1.60 level as a potential support area, mainly because of the large round number aspect of it. Also, the last time we visited this area we formed a nice hammer, and as a result this shows that support should be found in this general vicinity.
Below that, we see the 1.58 level as the beginning of a massive support area the goes all the way down to the 1.57 level. This is mainly because of the previous ascending triangle that formed over the summer months and launched the market up to the 1.63 handle. We haven't really had a serious retest of the area, and as such we could even go down this far before worrying about any potential change of the trend.
The bank of England currently sits still with its monetary policy, and this of course is much more positive than the Federal Reserve and its nonstop quantitative easing. Because of this, we think eventually this pair will begin to rise again and it should be a long-term buy. The interest-rate differential alone should be attractive enough to some investors, but you have to keep in mind that a lot of the Forex moves that we see everyday are based upon money coming into a country to buy government debt. Because of this, we think the debt and the United Kingdom will remain attractive, therefore attracting a lot of currency inflows.
We see a break of the top of the Monday session as an extremely bullish sign, but will or than likely be contained at the 1.63 level. If we see a fall, we would start looking for supportive candles the 1.60, and of course the aforementioned 1.58 area.