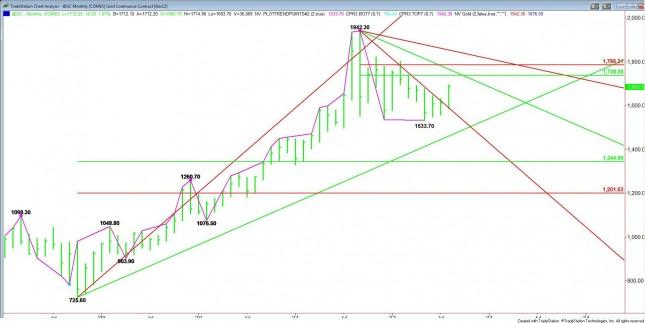 Since reaching an all-time high at $1942.30 in September 2011, Gold futures broke for eight months before reaching a low at $1533.30 in May 2012. Beyond that time period, the market actually continued down the path dictated by a downtrending Gann angle for 10 months until convincingly breaking out to the upside in August.
In August, this angle was at $1590.30 so last month's close at $1687.60 was a strong sign that investors had re-entered the market with clarity and conviction. This month, the downtrending angle is at $1558.30, making it very likely the market will continue higher in September.
According to the theory of price and time analysis, the next upside target is another downtrending Gann angle at $1750.30. Additionally, based on the main range of $1942.30 to $1533.70, a retracement zone at $1738.00 to $1786.21 is also a potential upside target. The combination of the Gann angle and the retracement zone forms a cluster, making it a major upside target and possible resistance area. If conditions become overbought on the short-term charts, long traders may decide to take profits on the intial test of this zone.
Fundamentally, the driving force behind the recent strength is the possibility of additional stimulus or another round of quantitative easing by the U.S. Federal Reserve. This action will put pressure on the U.S. Dollar, making commodities priced in dollars cheaper and thereby increasing demand.
While moving sideways since bottoming in May, a battle between investors in gold and those who treat gold as a reserve currency was taking place. Investors seemed to be supporting the market as it approached a major retracement area. Reserve currency traders were feeling pressure to take gold lower since the dollar was rallying.
Once the market began to accept the possibility of additional stimulus from the Fed, the reserve currency traders allowed the market to rise, lifted by additional buying from investors. With the monthly chart clearly indicating a breakout to the upside, the charts indicate that gold has room to run. Barring a complete reversal by the Fed in regards to additional quantitative easing, September should be a strong month for the market.
The first major test of the current rally will be on September 6 and 7. Traders will be looking for clarity from the European Central Bank on September 6 when it meets to decide monetary policy. At the same time, the ECB may also announce the start of additional stimulus in the form of bond-purchases. This should help bring stability to the Euro Zone and could give gold another boost.
On September 7, the U.S. government will release employment data for August. If this data shows continued weakness in the economy then this could help bolster gold as it will mean the Fed will act sooner rather than later when it comes to additional stimulus.