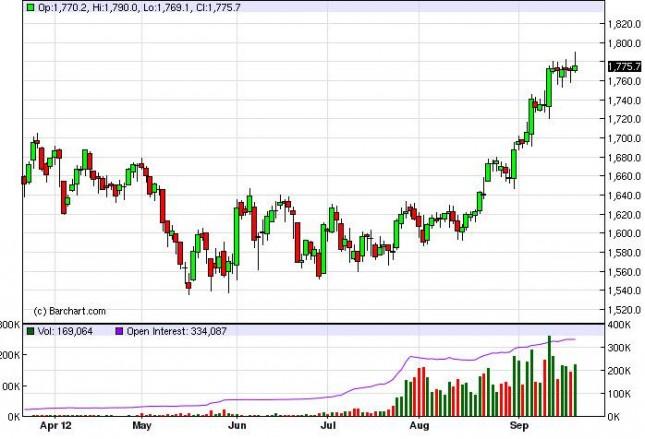 The gold market surged during the Friday session as the 1775 level was broken to the upside. However, as the market approach the $1800 level, it did run into significant resistance and enough in order to push it back down form a shooting star for the session. This does of course suggest that the market is running into serious headwinds at the moment, and the longer-term charts do of course back this thought up.
The shooting star formed just above several hammers, so we aren't necessarily too concerned about it but recognize the fact that we are running into an area that will of course be a struggle. When you look at the longer-term charts, for the last several months this market has been stuck between the $1550 area, and the $1800 level. Because of this, it makes sense we are starting run in this resistance, and as such a pullback could be coming.
However, those hammers do suggests that we may be going more sideways than down. Obviously, the market is in overbought state over the last couple weeks, and a sideways move would be welcome. It would simply allow more investors to get involved. When look at it from that point of view, gold should be a buy on dips going forward.
Also, if we manage to get above the $1800 level on a daily close, the gold market should go quite a bit higher from that point. The first target that we would see would be $1900 as it is the highs from the previous search. Nonetheless, this area should just be a blip on the radar on the way to the $2000 level.
As for selling this market, there simply far too many support levels to consider. Looking at the chart, we see $1760 of support, we see $1740 support as well. On top of that, the $1700 and $1640 levels also look very supportive. In other words, selling this is going to be option anytime soon. At any of those levels on a pullback, if we saw any types of support we wouldn't hesitate to go long and over fist.