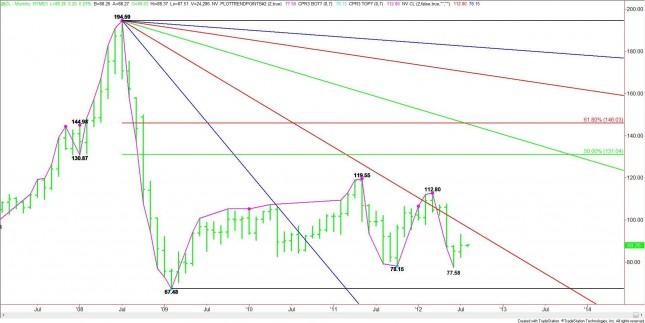 Despite talk of possible military action in the Middle East, crude oil has shown little signs of speculative buying as traders remain focused on the weakening U.S. economy and the abundance of oil. After reaching a bottom in June, the Nearby Crude Oil futures contract followed through to the upside in July without much fanfare.
Technically, the main trend is down on the monthly chart because of the lower-top, lower-bottom formation. Earlier in the year, the market met resistance at a downtrending Gann angle from the July 2008 top at $194.59. This angle is at $96.59 in August. Based on the short-term range of $112.80 to $77.58, additional resistance is at a 50% price at $95.19. These two prices should combine to provide solid resistance this month.
Conventional chart analysis has determined that a double-bottom may be forming between $78.15 and $77.58, but this will not be confirmed until the swing top at $112.80 is violated. This is not likely this month, but the first sign of strength will be closing above the resistance angle. On the downside, the market still remains vulnerable to a break through the two aforementioned bottoms with $67.48 a potential downside target.
A possible skirmish with Iran in the Strait of Hormuz has been one reason cited by speculators to remain a little bullish, but these traders cannot deny that talk of a possible U.S. recession triggered by problems in the Euro Zone could lead to a slowdown in demand. Current supply is about 5 percent higher than a year ago. This was cited as the leading reason for the drop in prices since earlier in the year.  
Traders aren't expected to take the market too much higher unless there is a conflict with Iran and could be leaning to the short-side if the economy remains sluggish and the situation in Europe continues to deteriorate. Over the near-term both the U.S. Federal Reserve and the European Central Bank are expected to implement some form of stimulus. This could weaken the dollar and drive up the Euro. Since crude oil is priced in dollars, the market could benefit if the Greenback weakens.
With speculators banking on the Fed to wait until September to apply this latest round of quantitative easing then crude oil could drift sideways to lower throughout August especially if the dollar continues to post strong gains.