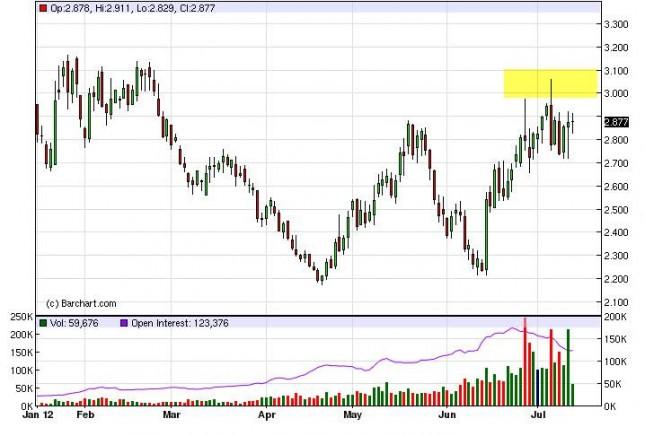 Natural gas markets had a very quiet session on Friday, after seeing a rather supportive one on Thursday. The markets look like you're trying to consolidate between the $2.70 and $3.10 sent levels, and as such we feel that there really isn't much in the way of a longer-term trade at this moment. However, it could be a decent scalping market given bounces from these two respective areas.
Obviously, if we can break down below the $2.77 level on a daily close we would want to short this market yet again. We suspect this would set up a run down to $2.20 before it's all said and done, which is plenty of room for the shorter-term trader to make money off of. Conversely, if the $3.10 level gets broken to the upside on a daily close, we feel that this market will rise quite a bit from this point. In fact, the real resistance above there isn't found until the $3.50 level, and then after that the $4.00 level. Needless to say, this is plenty of room to keep collecting profits if we get the breakout.
The supply and demand equation in the natural gas markets is absolutely horrible though. There simply far too much natural gas in the United States and Canada for it to be ever considered a rare commodity, and as such overall this market should be bearish for some time to come. As long as the Americans keep finding larger deposits of natural gas at home, it's hard to believe that this market will become a hotbed for money. With new drilling techniques as well as fracking becoming more large-scale and commercially viable, the huge amount of natural gas should continue to depress prices in the long term.
If we do manage to break out at this point, we think that eventually there will be an excellent shorting opportunity in this market. With this in mind, we will keep our stops relatively tight if we do find ourselves going long of this market. On the downside, we feel that giving the trade a bit more room to run it may be prudent.