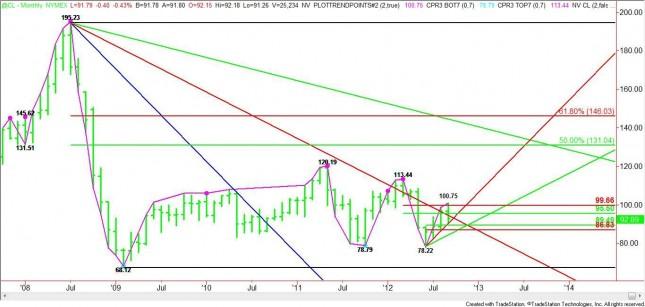 Signs of a global economic slowdown continue to pressure crude oil futures as traders factor in lower demand and higher supply. The main trend is down on the monthly chart because of the lower tops and lower bottoms. Last month's higher-high and lower-close suggests bearish sentiment which could lead to follow-through selling in October. 
Last month the nearby futures contract challenged the 61.8% retracement level of the $113.44 to $78.22 range at $99.66. The actual high was $100.75, but this slight breakout failed to attract any bullish attention. With the short-term range $78.22 to $100.75, look for the market to test $89.49 to $86.83 during October. 
A downtrending Gann angle from the $195.23 top was broken in September, but the lack of buyers caused this breakout to fail. This angle is now resistance at $93.23. On the downside, uptrending Gann angle support is at $86.22 and $80.22. 
In summary, bearish supply and demand fundamentals coupled with a series of lower-tops indicates that sellers are still in control of the market. The chart also indicates that the down trend is likely to continue as long as these two factors remain intact. A news story that threatens the supply situation will be a bullish factor that would wreck the current bearish set-up.