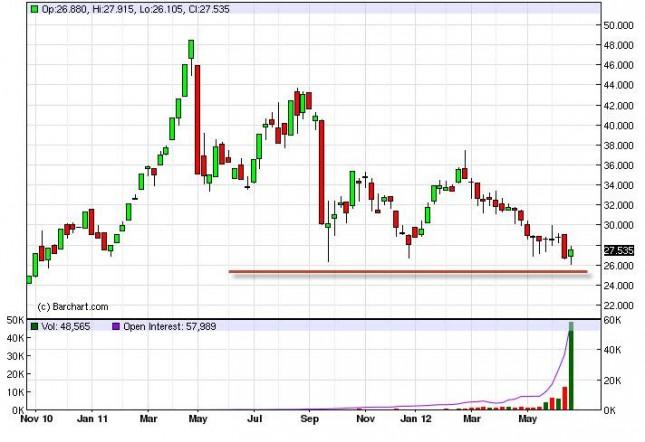 The silver markets had a relatively poor performance for the previous five sessions as many traders had gotten into the "risk off" mode for the week. However, with a preliminary announcement on bond purchases and recapitalization of banks in Spain, the meeting in the European Union gave the market a boost of confidence on Friday.
It was essentially the Friday session that saved the week for silver. We now have a hammer that is based at roughly the $26 level, and it does look like the market could get a decent bounce from here. Of course, this is going to be based upon headlines and whether or not there is some kind of actual solution coming about, so in the long run we think this rally could be a bit suspicious.
There are multiple levels that need to be paid attention to in this market, with $25 being the most obvious one. The $25 market is where the most support has come in the market, and does look to be the bottom of a descending triangle. So it is with this in mind that we are going to start selling this commodity if the $25 level gets violated.
On the upside, it looks like the $30 mark will be the first serious resistance area. A break in the top of this week's candle does suggest a run to that level however, it should be noted that the trend is most decidedly down so even if we do get a rally, there will be fits and starts here and there that cause this market pullback. Alternately, it does look like there is a possible area of consolidation forming between the $26 level and the $36 level. Essentially, we would buy a break of the top of this week's candle, expecting some kind of trouble and $30. If that gets overtaken, we expected move up to 36. On the downside, a break of 25 leads directly to the $20 mark. With this being said, we can almost read this hammer like it doji, and simply trade in the direction that the market breaks out of the range.