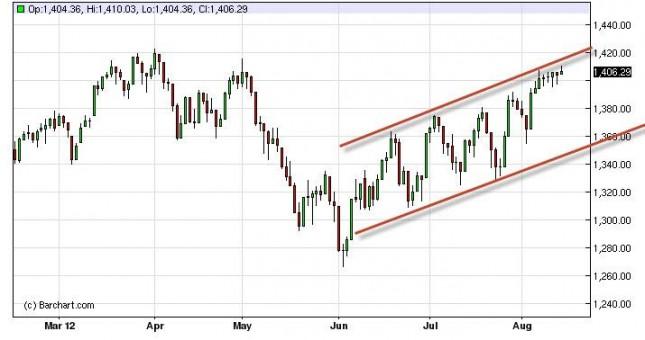 The S&P 500 had a very quiet session on Tuesday as we manage to break through the 1400 level, but really can sustain any type of serious gains for the session. The market is currently at the top of an up trending channel, and as such it looks like we're running into far more resistance than the buyers can take out.
This isn't to say that shorting the S&P 500 is the way to go, but rather that we may be getting ready to see a pullback that should be very helpful from the long side. A supportive candle somewhere closer to 1380 gives us interested in buying again, either through high beta stocks or possibly the S&P 500 futures market.
As for selling, we would like to see the bottom of the up trending channel to be broken in order to get aggressive about it. However, if the Federal Reserve fails to act in an accommodating fashion, we would go ahead and sell this market right away as equity traders are pretty much counting on the Federal Reserve coming in and bailing them out once again.