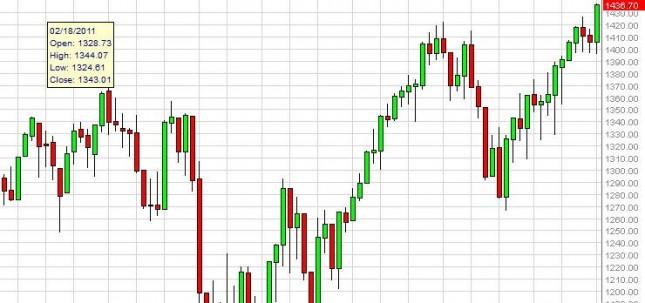 The S&P 500 index had a stellar week as the situation in the United States seems to be calling for more quantitative easing of the Federal Reserve. It should also be noted that the 1400 level acted as massive support, and simply was too much for the sellers to get below.
We are now above four year highs, and as such the acceleration to the upside should continue. Is well known that many of the hedge funds and large fund managers around the Wall Street are currently underperforming the marketplace. This typically will cause them to flood into the market in order to find some type of return to get back to the average for the year. Because of this, we can often see these markets get a sudden flush based upon money managers simply trying to look better.
With this in mind, we are buying pullbacks as long as we can stay above the 1400 level, and of course would buy a breakout above these previous weeks' highs.