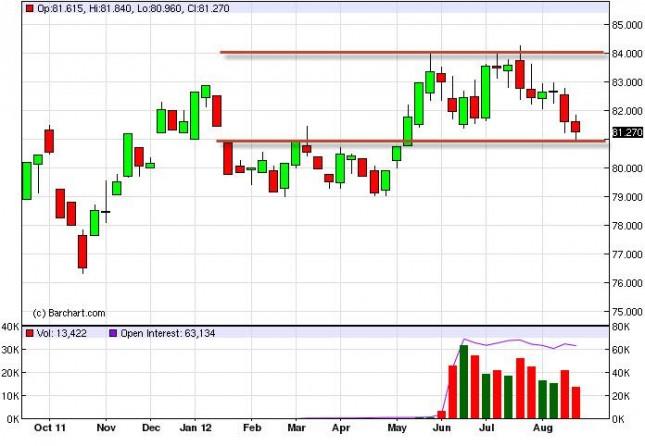 The US Dollar Index fell during the week overall, but bounced off of the vital 81 support level on Friday as the markets tested support. Even more impressive, the Federal Reserve Chairman Mr. Bernanke stated during the Friday speech that he could not rule out further bond buying, and yet the Dollar could not be broken down.
From where we look at this chart, it appears that there is a massive amount of support all the way down to the 79 handle, and we should see higher rates in this market. We think that of course the Euro will be the main victim eventually, but the commodity currencies could also get beat up quite a bit in the process as well.
Obviously, going long of the US Dollar Index is the easiest way to play Dollar strength, as it weighs the US dollar against several other currencies in general. We see this as a chart that looks like it wants to continue the consolidation up to the 84 handle. With this in mind, we are willing to go long at this point in time simply based upon the support level. We have an obvious stopped out point at the 80.50 level, as if it dips down there it will more than likely be broken to the downside and fall to the 79 handle.
This is an even a long-term type of trade in the sense that we are simply looking for just under three handles and will leave the trade at that. However, if we do see a daily close above the recent highs at the 84.20 level, we would be willing to hang on and ride the trade higher.
With all the uncertainty around the world, it would make sense to see this market grind higher. As the summer volumes have been fairly light, we will see true strength one direction or the other over the next couple weeks, and that the ECB doesn't get its act together, this market can only go higher. With this in mind, we are going long of the US Dollar Index.