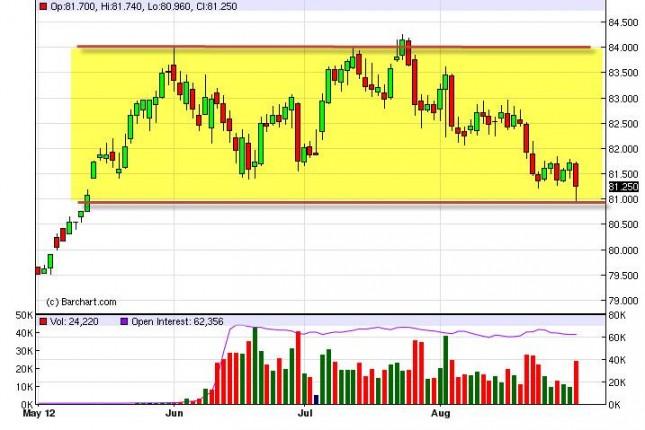 The US Dollar Index had a bearish session on Friday, and this would've been expected as the Federal Reserve Chairman Ben Bernanke gave a speech in Wyoming that many anticipated would have led to more clues about quantitative easing. In fact, he did mention that further bond buying can be ruled out, and this of course would in theory be Dollar negative.
What is truly impressive about this chart currently though is the fact that the 81 level held as support as one would expect. The market crashed into it, but bounced 25 ticks from the lows as the gap held up as support. This suggests to us that the Dollar is going to put up a serious fight, and we could see a return to the top of this consolidation area. On a break of the highs from the Friday session, this would be a classic signal to go long.
However, we put a small long position on Friday afternoon as the all-important 81 handle held. We figure that if the market couldn't get any more juice out of the Chairman speaking of the possibility of further bond purchases, it probably wasn't going to get any more out of the Federal Reserve anyways.
We don't necessarily think that this market is going to shoot straight up, or that is going to breakout to some massive multi-year move, but we do think that a rise to the 84 level is an out of the question at this point. In fact, it would just simply be a continuation of the consolidation we've seen over the summer.
Going forward, if we see the lows from the Friday session give way it is likely that we could test the 78 handle before it's all said and done. This of course would have us out of our long position, and possibly shorting this market. We do have to take a look at the situation however, and it does appear that the dollar held up fairly well considering it really should've been heads during the Friday session.