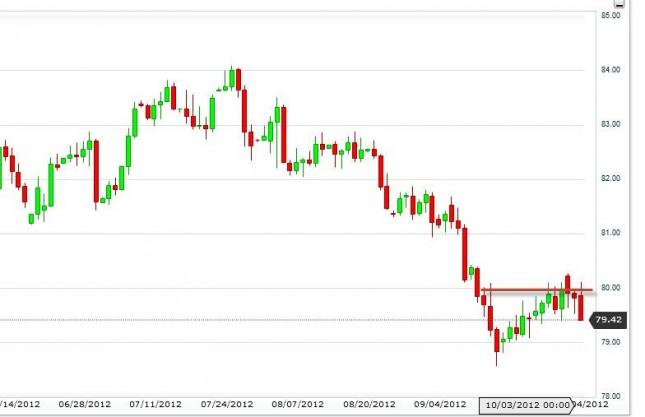 The US Dollar Index fell during the session after initially trying to rally on Thursday. However, as the day wore on we saw bearishness enter this market and closed right at the very lows for the trading day. This of course is a very bearish sign, as it shows that be selling continued until closing.
If we managed to break below the lows from Thursday, and looks very likely that the Dollar will continue to fall in value. We think this is essentially setting up to be very positive for commodities and the commodity currencies, and as such that's exactly where we would look to take advantage of this weakness. The light sweet crude market, as an example, rose over three dollars during the trading day on Thursday. This shows significant weakness in the US dollar overall.
Looking at this chart, it is obvious that the 80 handle has turned into resistance, and as such we think that the downward trend should continue. Also, you have to keep in mind the nonfarm payroll Friday as today, and as such there will certainly be a move in the US dollar overall. We think that the weakness that was shown on Thursday is simply the market acknowledging the fact that no matter what happens, the Federal Reserve will continue to devalue the US dollar.
A poor jobs number will actually accelerate this move, and throw money into various commodity currencies even though it is somewhat counterintuitive. This is simply because we know that the Federal Reserve is going to continue to ease, and any knee-jerk reaction to that announcement will more than likely be sent back down with this in mind, we are very bearish of the US dollar overall, and we will not hesitate to sell this market below the 79.40 level. As for buying the US dollar, we would need to settle well above the 80 handle, and probably even higher than that to seriously consider it. We expect continued weakness in the US dollar going forward, and as such think this could be a little bit of a longer-term trade.