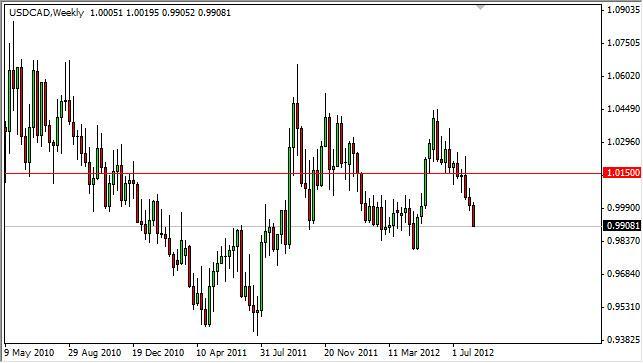 The USD/CAD pair fell precipitously during the previous week as the bottom of the downtrend channel gave way. The market has finished the week near the 0.99 handle, and it does look like we are going to make an attempt to reach as low as 0.97 or so before we find serious support.
This of course can change rapidly if there is some kind of headline risk in the market that plays out. Remember, this pair will rise based upon fear in the marketplace. At this moment time however, it does seem that the market is anticipating the Federal Reserve going into another round of quantitative easing next month, and this is hurting the dollar against the Canadian dollar as people rush into the oil and gold markets to protect their net worth.
We would however buy supportive candles closer to the 0.97 or even 0.98 handles. We think that the overall market looks very consolidative at this point in time between 0.97 and 1.04. If the 0.9 7 Level Gives Way to the sellers, then we obviously could run down to the 0.94 level as it was the recent all-time lows.